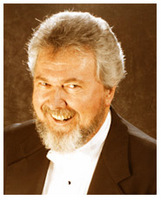 If it ain't broke, don't fix it
Wake Forest, NC (Vocus) December 24, 2008
Opera House Producer and Rise and Shine host David Ballantyne of WCPE, TheClassicalStation.org , announces the appointment of W. Robert (Bob) Chapman as the new host of the weekly WCPE Opera House. This special program airs every Thursday night at 7 p.m. ET.
Ballantyne, a musician himself, has something in common with Chapman; they both performed professionally in Germany, Chapman in opera and Ballantyne in nightclubs.
"If it ain't broke, don't fix it," says Bob of the show founded and nurtured by the legendary Al Ruocchio, who hosted the Opera House from its inception in April 1980 until his death in February 2007. "Al's enthusiasm for opera was infectious. He deserves much of the credit for creating an audience for opera in central North Carolina."
The WCPE Opera House is aimed at two distinctive audiences: those who already know and love the art form, and those who've only recently discovered opera and are anxious to learn more about it.
"Al Ruocchio created a format that worked very well," says Chapman. "Robert Galbraith expanded upon it, introducing more contemporary works. We'll continue to play works from the core Italian, French, German, Czech and Russian repertoires. We will also be introducing newer masterpieces by contemporary American and English composers."
Chapman begins the New Year with a broadcast of Johan Strauss Jr.'s Die Fledermaus Thursday, January 1, 2008 at 7 p.m. ET. Each month will include a return to the Ruocchio archives. The schedule can be found at TheClassicalStation.org/guide.
WCPE's live broadcast of Great Classical Music, 24 Hours A Day can be accessed around the globe in several ways; on-line streaming in multiple formats, including IPv6, local cable television systems and traditional radio broadcasting. A complete list of the ways WCPE is available with instructions for cable and satellite reception can be found at theclassicalstation.org/listen.shtml.
In central North Carolina and southern Virginia, WCPE is found on the radio at 89.7 FM.
For more information on WCPE, or to print a downloadable version of Quarter Notes, please visit TheClassicalStation.org.
About WCPE:
With a 30-year history, WCPE is a non-commercial, 100 percent listener-supported, independent station dedicated to excellence in Great Classical Music, 24 Hours A Day. Community-minded business underwriters and foundations are among the 150,000 listeners in the North Carolina broadcast area. General Manager Deborah S. Proctor's leadership has enabled the WCPE community to include national and worldwide listeners. Other radio stations and cable television systems can rebroadcast Great Classical Music, 24 Hours A Day. WCPE is one of the first public broadcasters to stream on the Internet. WCPE is heard worldwide on the Internet in multiple formats, including the next generation IPv6. Because WCPE receives no tax-derived support, the station conducts two on-air fundraising campaigns and two major mail-out campaigns per year to raise needed operating funds. Quarter Notes, the WCPE Program Guide, is published four times a year as a means to enhance appreciation and understanding of classical music. It is distributed to station supporters and is also available online at TheClassicalStation.org/guide. For more information, visit TheClassicalStation.org or call 1-800-556-5178.
About W. Robert Chapman:
W. Robert (Bob) Chapman is the weekend host of Sleepers, Awake! An opera singer, dancer, and librarian-and a transplant from Connecticut-he lives in a circa 1888 Victorian cottage in the Historic Oakwood neighborhood of Raleigh with wife Mary Lovelock (they're collectively known as The Chaplocks) and their one-eyed mutt, Miss Winky.
Since moving to The Triangle, bass-baritone Bob-who sings in half a dozen languages-has sung with both the Opera Company of North Carolina and Capital Opera. He recently sang the role of Der Lautsprecher in Viktor Ullmann's Der Kaiser von Atlantis at Meredith College. Bob and Mary occasionally demonstrate Victorian and Ragtime-era ballroom dances with Triangle Vintage Dance, and have attended balls in Newport (RI), Paris and Vienna. Prior to taking an early retirement, he was a reference and music librarian at the Hartford Public Library. He earned his B.A. in History and M.A. in American Studies at Hartford's Trinity College, and his M.S. in Library Science at Simmons College in Boston. During his "spare" time, Bob is a substitute school teacher and does special projects at a local history library. Despite the best efforts of his many friends who went to Chapel Hill, Duke or State, Bob's still a UConn Huskies basketball fan (both women's and men's teams).
Media Contact:
Curtis Brothers
919.556.5178
# # #