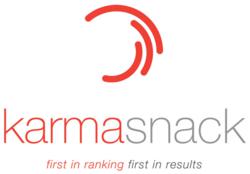 First in Rankings, First in Results
Miami Beach, FL (PRWEB) June 01, 2011
Karma Snack, a search marketing agency specializing in on-line branding, Web marketing and lead generation, today announced a strategic partnership with Original Impressions (OI), a full service marketing communications company specializing in creative design, Web development, printing, mailing/fulfillment and strategic marketing consulting. The partnership aligns Karma Snack with a 27-year-plus veteran leader and expands their suite of Internet marketing services to more efficiently serve its clients.
Karma Snack drives online branding with an optimized solution for lead generation, sales conversion and Web analytics, packaged as a complete digital marketing solution. The web agency, now adds OI's advanced full-service printing solution to its rapidly growing Internet marketing base. As part of the announcement, Karma Snack will bolster its customized, web marketing platform with OI's established footprint and printing expertise.
"This partnership is in line with our mission: 'First in Rankings, First in Results,'" said Eric Rosado, CEO, Karma Snack. "Partnering with Original Impressions lends to us a successful 27-plus year track record with globally-recognized companies across a wide variety of industries and creates new synergies and exciting growth opportunities in terms of our service portfolio."
"Original Impressions is pleased to partner with Karma Snack, because its services complement ours and helps us bring additional value to our clients," said Roland B. Garcia, Sr., founder & CEO, Original Impressions. "This partnership further bolsters our ability to be a powerhouse of convenience for our clients by enabling us to take our Web division to the next level through proven Search Engine Optimization and Pay Per Performance methodologies that will grow their brands online."
Karma Snack's Winning Approach
Karma Snack has paced the search engine-marketing industry, led by a world-class team of industry experts. CEO Eric Rosado has overseen digital marketing campaigns for several major banking institutions. He has delivered 15,000 page-one Google rankings and $3 billion in revenue for his growing customer base. He embodies Karma Snack's mission of being "First in Rankings, First in Results," and partnering with OI creates new synergies and exciting growth opportunities for the search marketing agency.
Karma Snack's entire leadership team were first movers in the interactive media space – certified digital natives, having run successful, online branding initiatives for elite global brands in a multitude of industries. Karma Snack's all-star backing differentiates their services in a, still, emerging industry. Leveraging their expertise and expanding resources, Karma Snack offers a highly customizable approach to traffic generation and website optimization. Their proven process is a true, end-to-end solution.
At new project launch, Karma Snack establishes clear-cut, measurable, campaign goals for its customer. Then the thorough and aggressive optimization begins. Karma Snack codes individual sites to be search friendly, based on optimum search terms. Over 100,000 traffic sources are employed to maximize traffic and ROI.
While most of Karma Snack's competitors offer more boutique services, focusing on a limited pool of applications, Karma Snack implements a robust suite of both established and emerging media. Basing decisions on sound metrics, Karma Snack optimizes each customer with the best technologies, powering maximum traffic results and sales conversion. Organic search, PPC, affiliate marketing, e-mail marketing, and all relevant social media sites are strategically packaged to reach the top of Google's ladder, while generating healthy spikes in e-commerce revenue.
About Karma Snack:
Karma Snack, LLC is an internet marketing services company. It specializes in search engine optimization, digital branding, lead generation, affiliate marketing, search engine marketing, social media marketing, E-commerce, pay per click management, and web site design. "First in Rankings, First in Results," Karma Snack fulfills their mission by delivering measurable results to a diverse customer base. It holds front-page Google results for search terms "Marketing Services," "Miami SEO," and "Internet Marketing Services." Their corporate communications reports more than 1,200 profitable Internet campaigns for its clients. The company is based in Miami, Florida.
About Original Impressions:
Original Impressions, LLC (OI) is a full service marketing communications company specializing in Creative Design, Web Development, Printing, Mailing/Fulfillment, Signage and Marketing Consulting for clients across a broad spectrum of industries, including Banking, Beverages, Cosmetics, Cruise Lines, Fast Food, Healthcare, Hospitality and Pharmaceuticals. OI was the first triple certified Marketing Communications company in South Florida authorized to purchase FSC, SFI and PEFC certified paper and print the certified logos on its clients' marketing materials. It is also one of the nation's leading green power purchasers and the only printer headquartered in the state of Florida to be Green-e Marketplace Certified. It is one of the "Top 100 Minority Businesses in South Florida," one of the "Top 500 Hispanic Companies in the U.S." and is a Certified Minority Supplier at the local, state and national levels. To learn more about Original Impressions, please visit the Company's Web site at http://www.originalimpressions.com.
###