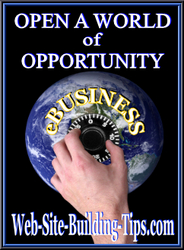 Internet Entrepreneur Sue Dolan adds, "This ecourse is just so incredibly unique. I don't know of any other internet business training program where you graduate actually owning your own ebusiness. In my eyes, it just doesn't get much better than that!"
Byfield, MA (PRWEB) June 15, 2010
Students of the innovative "Building a Successful Business Using the Internet" course learn to build a website and have launch their own online internet business as an integral part of the course curriculum. Taught at college and universities such as the University of Arizona and The Citadel, as well as higher educational venues all over the world, the unique "Building a Successful Business Using the Internet" program is now available as a twelve week elearning opportunity.
Students learn not only how to build their own website but how to implement the fundamental strategies and techniques to create their own profitable online business.
Graduates of this unique hands-on ebusiness course have not only built a website during class time but have started growing their own web business. With ready access to expert advice from an ongoing ebusiness support group upon completion of the curriculum, any challenge that may arise managing the web business becomes a team effort.
Sue Dolan, Internet Entrepreneur, observes, "With so many get-rich-quick scams, the internet has become a virtual reincarnation of the California Gold Rush. But let's remember what Settlers tempted by the lure of riches hidden in the Wild West ultimately discovered. Even panning for gold is hard work! The same is true for establishing a profitable business on the internet."
The principles and strategies necessary for growing a profitable web business serve as the foundation for the comprehensive curriculum developed by the educational division of SiteSell's, "How to Start Your Own Online Business" course. As a result, building a successful online ebusiness becomes a matter of following a well tested proven process that serves as a clear road map to success and profits rather than getting caught up in any of those internet rags to riches get-rich-quick schemes.
With the adaptation of the curriculum of this popular college elective course into a comprehensive elearning program taught by an instructor who is an internet website business expert, students don't even have to leave their house to attend class. Anyone around the world with access to a computer now has the opportunity to enroll in this ecourse to learn how they can start their own profitable internet business.
"There simply isn't any other website ebusiness training program available that comes even remotely close to this one," concludes Sue Dolan. Impressed by the curriculum and the achievements of students, Sue summed up her assessment of the new elearning SiteSell course, "How to Start Your Own Online Business" stating, "I honestly don't know of any other internet business training program where you graduate actually owning and growing your own ebusiness. In my eyes, it just doesn't get much better than that!"
# # #