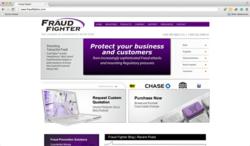 The new web design encompasses a cleaner look and feel that empowers web visitors to take action.
Houston, Texas (PRWEB) March 20, 2013
Houston web design company, Adhere Creative, recently redesigned and relaunched the website for Fraud Fighter, a leading provider of counterfeit detection and fraud prevention solutions.
Adhere Creative revamped and upgraded call-to-action buttons, landing pages, banners, and the navigational structure of the website. The company also completed a site wide on-page SEO analysis and implemented new page URL's, page titles, meta data and keywords throughout the site in order to optimize it for search engines. A comprehensive design was implemented to focus on the products of Fraud Fighter to increase the company's conversions and sales.
"The new web design encompasses a cleaner look and feel that empowers web visitors to take action," said John Feagain, Art Director at Adhere Creative. "We wanted to achieve a look that represents the great products that Fraud Fighter already provides."
Adhere Creative believes that a company's website is the front line of its sales process and presenting engaging content that clearly displays its value to its target market will attract visitors. Equally important is creating a logical and easy-to-navigate website structure and design that includes clear calls to action to spark engagement. In addition to web design, Adhere Creative specializes in brand development, search, content and social media marketing, lead generation and press releases.
 
Headquartered in Glendora, California, Fraud Fighter was the first company to address the point-of-transaction document fraud industry by designing and manufacturing breakthrough products that effectively filter real-world, fraudulent transaction activity before it occurs. This is achieved by efficiently testing every document that is presented—verifying identification, validating credit cards, and authenticating traveler checks, coupons, gift cards, and more. Established in 2000, Fraud Fighter is a division of UVeritech. The company serves clients in the retail, hospitality, financial, government and rental company industries. 
For more information on Houston web design company Adhere Creative, please visit http://www.adherecreative.com. 
To view the new website and for additional information on Fraud Fighter, please visit http://www.fraudfighter.com.