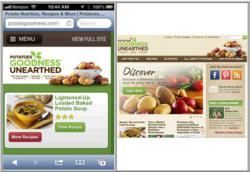 Web design is really only as worthy as the ROI it generates.
Denver, Colorado (PRWEB) March 25, 2013
For the twelfth consecutive year, the Denver Business Journal has recognized Denver marketing company Webolutions® as a Top Denver Website Design and Web Development Agency. The annual announcement was made in the March 15-21, 2013 issue.
"We take pride in systematically creating web design that generates results for our clients," said Webolutions founder and CEO John Vachalek. "Web design is really only as worthy as the ROI it generates." Vachalek added, "It's wonderful to be so consistently recognized by such an important and prestigious Denver resource."
Webolutions, which was recognized in 2012 by the Denver Business Journal as a Best Place to Work, was also listed among the top revenue earners in the category.
"Integrated Marketing is critical for our client's success," said Vachalek. "While web design and web development are important components of a company's marketing mix, the key to success is integrating all the marketing activities to create great overall user experiences. Our strategic consulting and ongoing digital marketing provide an integrated approach which allows us to drive high-quality traffic to effective conversion points."
Sample Webolutions desktop and/or mobile websites include:

PotatoGoodness.com – Client: United States Potato Board, Denver
DLanceGolf.com – Client: D'Lance Golf, Denver
AegisEnergyPartners.com - Aegis Energy Partners, Denver
Edgewit.com - Client: Edge Solutions, Atlanta
ChildHealthStrategies.com – Client: Health Strategies & Solutions, Inc., Philadelphia
In 2012 and 2013, Webolutions web design and web development initiatives include continual refinement of its:

Enhanced Wordpress Platform™ - By standardizing and enhancing a unique configuration of the most used Content Management System (CMS) available today, Webolutions is able to provide its clients with the necessary tools and functionality they need to succeed.
Webolutions' proven development protocol is a 105-step process which ensure best practices are followed and timelines are maintained during the planning and creation of all digital projects.
Responsive Web Design (RWD) – This provides for an equally engaging website user experience on smartphones and tablets. Using CSS to alter the site's layout, based on the size of the visitor's screen, this approach allows companies to maintain a single, concise code base while reaching all online viewing platforms.
"Successful companies are those who create unique and meaningful experiences for everyone who touches them," said Vachalek, "and focus on the ongoing return on investment for their clients. "Every Webolutions website provides a personalized, intentional experience for each visitor just as we are intentional about personalizing every experience our clients have with us."
About Webolutions
Founded in 1994, Webolutions is a privately owned full service marketing agency based in Denver, Colorado. The company's services include branding, website design, application development, Internet marketing, email marketing, mobile marketing, company culture development, ROI tracking and social media marketing. Media contact: Mike Hanbery (303) 300-2640, MHanbery (at) Webolutions (dot) com.