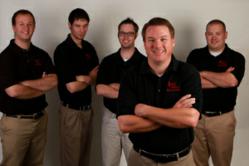 "Hosted solutions are the future of the network industry," Lewis says. "Moving key pieces of your network infrastructure to the cloud will allow companies to evolve quicker by decreasing the burden of a heavy network."
Scottsbluff, NE (PRWEB) July 31, 2012
Since 2001, Bytes Computer and Network Solutions has offered business owners an affordable alternative to employing costly full-time tech support staff. As a result, the sales, service and support company has become the premier source for computer reliability solutions and managed network services, both on-site and remote. With the launch of valuable new service offerings, the professionals at Bytes are now prepared to do even more for their business and individual clients.
Business owners concerned about slow computer speed, employee downtime, lost productivity, and security threats due to unreliable technology will benefit from Bytes' newest PC Complete Care Business Edition service package. Designed to increase computer reliability and network security while reducing repair needs, PC Complete Care Business Edition brings the experience and expertise of a professional IT department to any size business.
The company recently added website design to their service mix. "We decided to add web design during the first quarter this year," says Todd Lewis, company vice president. "We have had many clients ask us for a referral to a vendor that would provide this service, but we could not recommend one because none of the companies that did web design lived up to our expectations."
Lewis also saw a need for custom application design services, so Bytes added a software development group, to supply the necessary talent. He is certain Bytes' clients will benefit. "Custom applications are built to fill a void that boxed or retail applications just can't fill," says Lewis. "Being able to tailor an application to fit your needs saves time and money by making the process more efficient."
Rounding out the company's newest service offerings is cloud hosting. "Hosted solutions are the future of the network industry," Lewis says. "Moving key pieces of your network infrastructure to the cloud will allow companies to evolve quicker by decreasing the burden of a heavy network." Because they are naturally robust, cloud services offer small businesses more for their money, an important benefit in any economy.
By providing website design, custom applications and cloud hosting in house, Lewis can ensure that clients receive the same superior level of service they've come to expect from Bytes. "Vendor management has always been an issue with all companies," he says. "We now offer a 'one stop shop' end-to-end solution for our customer so they only have one place to call for their technology needs."
About Bytes Computer and Network Solutions
Bytes Computer and Network Solutions is the premier source for cutting edge service, on-site and remote computer tech support, technology, custom applications, web design and cloud hosting for businesses and individuals in Scottsbluff, Nebraska and nationwide. Established in 2001, the company, led by a group of youthful software enthusiasts, now grosses over $1 million annually. Their newest comprehensive computer reliability service, PC Complete Care, increases computer speed and is earning rave reviews from business and individual clients.
For additional information, contact Todd Lewis, President, Bytes Computer and Network Solutions, 308.635.2983 or TLewis(at)bytescomputer(dot)com.