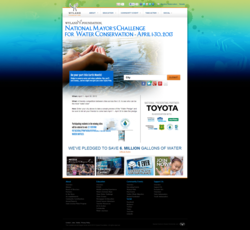 Irvine, CA (PRWEB) April 01, 2013
In an era where 'going green' to conserve the environment and lessen our impact on the planet is at an all-time high, The Wyland Foundation is taking a proactive approach in educating and inspiring communities to do their part by launching its second annual National Mayor's Challenge for Water Conservation on April 1, 2013 – April 30, 2013. The Wyland Foundation hired Orange County web design firm, ByteLaunch, to assist in revamping the campaign's 2013 website (MyWaterPledge.com) to improve and support new functionality.
Aside from a new front-end design, the revamped MyWaterPledge.com has undergone a significant amount of programming on the back-end. One of the biggest upgrades has been to transition the entire campaign from city-based to population-based so that it may integrate with the latest Census data and support a wider audience. Interactive and social elements have also been integrated to encourage user engagement and shareability.
"We've had the great privilege of working with The Wyland Foundation team to take this already successful Mayor's Challenge website and expand on its capabilities," said Michael Craig, founder and President at ByteLaunch.
For more information on ByteLaunch services, including internet marketing, web design or web development in Orange County, visit http://www.bytelaunch.com or call (949) 274-9878. For more information on the National Mayor's Challenge for Water Conservation visit http://www.MyWaterPledge.com.
About ByteLaunch
ByteLaunch was founded in 2006 as a software and web development company and has since grown to become a full service web design and internet marketing agency. For over half a decade, ByteLaunch has grown and expanded from focusing solely on web development in Orange County to also offering web marketing services and web design to businesses across the country.
About Wyland Foundation
Founded by renowned environmental artist Wyland, the Wyland Foundation has helped children and families around the nation to rediscover the importance of healthy oceans and waterways through public art programs, classroom science education, and live events. The foundation gives children the tools they need to become more creative, positive, and solution-oriented. The foundation is a 501(c)(3) non-profit organization and has worked directly with more than one million children since its inception in 1993.