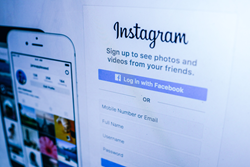 For any business, access to such a large number of potential customers is something you simply shouldn't pass up on if you want high profits and long-term success.
NEW YORK (PRWEB) November 22, 2018
Lounge Lizard is globally recognized as a top web design company within the web design and development industry. Lounge Lizard's brandtenders are creative, tech-savvy, and passionate in developing innovative strategies that drive conversion for both startup and established clients of all industries, making them the "best of breed since 1998."
Instagram has over one billion monthly users and they are still growing. At the same time, there are only around two million advertisers using Instagram each month. When you do the math that means there is an abundance of opportunity as only two percent of the users are actively marketing products or services. For any business, access to such a large number of potential customers is something you simply shouldn't pass up on if you want high profits and long-term success. Today NY based web design company, Lounge Lizard, shares a 5-Step Program for Selling on Instagram.
1. Utilize a business profile. There are two types of profiles on Instagram; personal and business. If you are using Instagram as a vehicle for your business, it is an absolute must that you convert to a business profile. It is a straightforward process to make the switch and you gain a number of very useful options for data reporting and selling such as Instagram Insights which is a powerful data aggregate feature. With a business profile you also have the ability to link to your Facebook business page which will open up additional opportunities.
2. Research hashtags. Hashtag research will lead to successful organic campaigns. Take the time to search for terms related to your business and then compare the number of posts using those hashtags. When you then use a hashtag, your post is added to the Discover queue for it. Contrary to what logic might indicate, on this platform it is a good idea to use both high and low-posting volume hashtags for better reach.
3. Utilize Instagram shopping. Anyone selling products should use Instagram shopping. The interface is slick, appearing much like an organic post but with pop-up tags that link to product pages complete with CTA's. The only downside is that it is for products only and not services.
4. Pay for ads. Ads on Instagram are relatively inexpensive compared to the results they get and even the tightest budget should find room to pay for ads. With the connection to Facebook you can set up campaigns in Ads Manager and run ads together on both platforms. By doing this you gain access to Facebooks targeting and campaign types which will make even the least expensive ads so much more effective. Plus, your posts will be on their new Instagram Explore channel which is just for shopping.
5. Use influencer marketing. Influencer marketing can be extremely powerful when done properly and Instagram is one of the most effective sites to use in conjunction with it. Along with adding credibility to your products, you can reach new audiences much more easily based on the influencer's sphere which can number in the tens of thousands most of whom might never see your product otherwise. Last but no least, influencers are much more tapped into Generation Y and Z compared to other marketing methods
Lounge Lizard New York Web Development is an award-winning, high-end design boutique specializing in website and mobile app development, UX/UI, branding, and marketing. Lounge Lizard excels in creating the ultimate brand strategy, fully loaded with expertly crafted visuals that work together to increase sales and effectively communicate a client's unique personality.
Media Contact: Ken Braun, Lounge Lizard, 631-581-1000, ken.braun@loungelizard.com