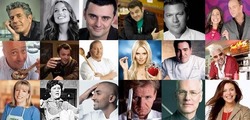 There are Webby Awards, and Emmy Awards, film awards, and now it's time for the Tasty Awards.
San Francisco, CA (PRWEB) October 19, 2009
Why don't films, television and online video in the hottest viewer markets -- food and fashion -- actually receive the honors and visibility they deserve? They do now. Nominations are currently being accepted for the 1st Annual TASTY AWARDS.
The Tasty Awards spotlight the year's best achievements in food, wine and style programming. Regardless of whether they are on the web or on television, on a mobile device or on a cinema screen, a celebrity chef or a home chef, each has a chance to win this coveted honor.
Says A.K. Crump, TasteTV founder and creator of the Tasty Awards, "Everyone loves to watch an Emeril, Tyler Florence, Gary Vaynerchuk, Anthony Bourdain, Top Chef, Heidi Klum, or Paula Deen, but after looking at the host of new programming online and on television, you see that the topic and the craft deserves its own recognition." Crump adds, "There are Webby Awards, and Emmy Awards, film awards, and now it's time for the Tasty Awards."
Finalists are selected by the Tastemaker Awards Panel, an association of food editors, editors, writers and bloggers, chefs, television producers and stations, online video platforms, mobile device providers, and others. There is also a set of Viewer's Choice Awards, selected online by the general public. Finalists will be announced on December 1st, and winners of the Tasty Awards will receive their honors on January 13th, 2010 at a gala celebration in San Francisco.
Some of the Awards categories for video-loving foodies and fashionistas include: Best Drink or Beverage Program, Best Food Program, Best Fashion or Design Program, Best Online / Broadband Series, Best Video Podcast, Best Travel Series, Best How-to Program, Best Chef in a series, Best Mixologist in a series, and Best Home Cook in a series.
Nominated submissions can include Web Programs, Television Programs, Mobile Content, and Films & Documentaries. There are also special categories for promotions and branded campaigns, as well as for casts and personalities.
Nominations can be submitted at http://www.TastyAwards.com
###