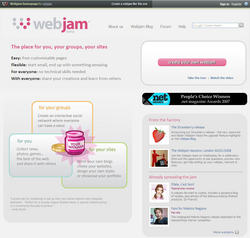 the place for you, your groups, your sites
London, UK (PRWEB) April 1, 2008
Webjam, the place for you, your groups and your sites, has been chosen by one of Britain's best known and most respected think tanks, the Centre for Policy Studies(CPS), as its online discussion and collaboration platform.
The Centre for Policy Studies has created a series of micro-sites dedicated to debating each of its policy topics as well as hosting papers by the group, the first of which 'Politics, Policy and The Internet' by Robert Colville, Commissioning Editor for the Daily Telegraph is available to view at http://policystudies.cps.org.uk/. In addition, the CPS will also allow its members to replicate its webjams, enabling users to start their own blogs and discussion groups to foster debate in their own communities.
On March 31st Webjam is presenting the case for interactive online engagement at the Politics, Policy and the Internet seminar, hosted by The Daily Telegraph and the CPS at Portcullis House. Speakers will include Iain Martin, Group Executive Editor, Politics, The Daily telegraph, George Osborne MP, Shadow Chancellor of the Exchequer and Robert Colville.
Yann Motte, Co-founder and CEO of Webjam comments, "Webjam is growing at its fastest ever rate and it is great that an important body like the Centre for Policy Studies recognises our potential to help it foster debate on the internet." "Having a major think tank using our service is testament to Webjam's ability to unite serious blogging with powerful discussion forums."
Webjam is the next generation tool in social publishing, allowing any individual, organisation or corporation to give a sense of purpose to their online connections and manage their web presence, from the content they share to the groups they interact with. Webjam is the solution of choice for local communities, interest groups, think tanks or charities which want to easily connect online and share content in a controlled and safe environment.
The Centre for Policy Studies exists to promote coherent and practical public policy, to roll back the state, reform public services, support communities and challenge threats to Britain's independence. It is the first major think tank to recognise Webjam's potential as a basis for an interactive platform incorporating its blog on its latest publications and events.
Tim Knox, Editor of the Centre for Policy Studies commented: "With Webjam, we are able to offer a modern and interactive way to influence policy making, through a medium which is accessible to all." "Our members now have an easy and convenient way to voice their opinion, whilst Webjam gives us the tools we need to regulate the forum. The Centre for Policy Studies has put policy into action and brought a conservative institution into the social media age."
The Centre for Policy Studies (CPS) is independent of all political parties and special interest groups. It is a non-profit-making organisation which relies entirely on the donations of individuals and companies to carry out its work. Its webjam can be visited at http://policystudies.cps.org.uk/.
Webjam was recently named as a finalist in the Red Herring 100 Europe 2008 award.
About Webjam
Webjam provides individuals and organisations with a free and flexible platform to create a relevant and personalised web presence.
Founded in 2006 by a British, a Spanish and a French entrepreneur in London, UK, Webjam differentiates itself by bundling powerful community features with an easy drag-and-drop interface, a rich catalogue of modules and styles and a unique feature to replicate contents, applications and lay-outs. Users are able to piece together their perfect online community, taking feeds from major services including Flickr, Google YouTube, Amazon and Gmail. Available to everyone regardless of technical skills, Webjam allows anyone to share their creations and learn from others.
Webjam was recently named as a finalist in the Red Herring 100 Europe 2008, and has been touted as an alternative to Facebook by BBC News Online.
For more information about "the place for you, your groups, your sites", visit http://www.webjam.com.
Contact Information:
Tim Masih
Hotwire
+44 20 7608 4665
Sonia Kalfon
Webjam Ltd
+44 20 3170 8741
###