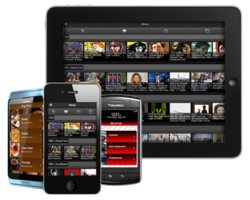 Open Beta of Website to Mobile Apps Service.
San Francisco CA (PRWEB) October 21, 2011
Cross-platform mobile web apps and hybrid native apps solution provider WebMobi Ltd (http://www.webmobi.com) is now available for business owners to make their own Mobile Apps. SMBs can use WebMobi to convert their existing website to mobile app. Sign-up at http://www.webmobi.com.
WebMobi supports all major smart phone platforms and tablets, namely, iPhone, Android, Blackberry, Windows Phone 7, Bada, Symbian and tablet platforms such as iOS (iPad), and Android. For additional details on platform support visit WebMobi Platform Support.
WebMobi helps enterprises, small and medium businesses, as well as personal users to keep up with the increasing preference towards mobile internet by providing the means to convert existing websites to mobile web apps and native apps for most major smart-phone platforms.
Mobile internet is poised to overtake desktop internet as mobile app demand increases month after month. Mobile Internet usage in the US has been growing exponentially since the first quarter of 2011. Mobile web is getting better and better, more and more people are downloading video, multimedia-heavy apps and other data.
Some of the figures when it comes to the ever-expanding mobile internet:

Over 1 billion of the worlds 4+ billion mobiles phones are now smartphones.
In 2014, mobile internet usage will overtake desktop internet usage and already in 2011, more than 50% of all "local" searches are done from a mobile device.
86% of mobile users are watching TV while using a mobile phone
200+ million (1/3 of all users) access Facebook from a mobile device and 91% of all mobile internet usage is "social" related.
WebMobi affords an advantage by giving a tool that adapts existing site for mobile and providing a SaaS-based solution, offering quick and easy mobile apps for personal or business requirements.
WebMobi is the first HTML5 platform that integrates HTML5-based design into easy-to-use components for creating mobile web apps across the major mobile platforms available in the market today. Web-based and robustly constructed, WebMobi helps cut down the time needed for developing mobile apps while making it highly adaptable to constantly changing web technologies. WebMobi's HTML5 platform provides tools and components that enables small, medium and enterprise level businesses to rapidly create and distribute light-weight custom web and native mobile apps to major mobile platforms.
WebMobi offers freemium services to the ever-increasing numbers of mobile internet users. The regular service is supported by ads with WebMobi branding to increase awareness for WebMobi, primarily offered for personal mobile apps. WebMobi premium service, geared towards business and enterprises is going to be coming soon.
More information:
WebMobi: http://www.webmobi.com/
WebMobi Blog: http://www.webmobi.com/blog
WebMobi Device Support : http://www.webmobi.com/page/gridsupport
For more information, please contact info(at)webmobi(dot)com.
###