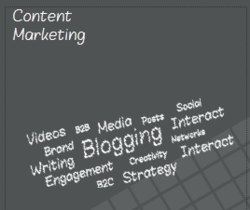 In today's highly competitive markets, it really is a case of earning the attention of your prospects!
Macclesfield, Cheshire (PRWEB UK) 26 March 2013
Macclesfield-based online marketing company Webpresence have announced a new service designed to boost sales for businesses in the region – it's known as content marketing, and according to them, it's a powerful way to attract customers and build trust.
A new website and overall rebrand accompany the new service, which sees Webpresence reposition as specialist content marketers and brand-builders.
Content marketing works by drawing potential customers to valuable information and positioning a company as a reliable expert, instead of pushing products first. With this service, Webpresence intend to increase profits for businesses beyond what's possible with purely traditional advertising.
Content Marketing has already gained a lot of traction in the US – according to eMarketer, annual US spend on content marketing and social media sits at over $100 billion, and the industry is set to grow by 15% in 2013.
The content itself can consist of many kinds of creative media – informative articles, appealing videos, newsletters and podcasts are all viable forms. To do it well though, businesses need to really know their target market. Webpresence say that businesses should use well-constructed polls to understand how their product or service is currently viewed as a brand. The marketing agency employ survey and data services to gather this information, and they use the results to create content tailored to their clients' business goals.
Content marketing is particularly relevant for companies with Business-to-Business ("B2B") offers – a Roper opinion poll suggested that eighty percent of decision-makers prefer to receive product and service information via a series of articles versus an advertisement.
The new website and rebrand at Webpresence indicate a deliberate move towards this new kind of marketing. Lee Jackson, Director of the Macclesfield-based company explains "Companies who don't engage in new strategically planned content marketing campaigns as well as having the right content on their websites will lose out. In today's highly competitive markets, it really is a case of earning the attention of prospective clients".
Content marketing also opens up opportunities for online branding. Online advertising is largely "brand unaware" - those adverts you see down the side of Google only have the space for a few words of persuasion. Content marketing lets businesses wrap their brand around the valuable information they create, and invites consumers to step into their world.
According to Webpresence, effective branding is more than a clever logo and a user-friendly website. "Weak brands don't survive! Your brand needs to be strong, recognisable and reflect your values", says Lee. The company's new branding services are aimed at helping clients identify what is uniquely positive about their business, what they stand for, and how they want to be seen online. They are confident that their own rebrand serves as a clear example of what they're able to achieve for their clients.
The numbers seem to back claims that content marketing is a trend that's here to stay. Traditional advertising is far from dead, but there's no doubt that content marketing works – European companies that actively blog generate 67% more leads on average.
In 2013, Webpresence expect to create and manage content and online brands for more clients than ever before. That means we'll see more businesses really engaging with their customers and sharing valuable information – and that can only be a step forward for the marketing industry.
About Webpresence: Based in Macclesfield (Cheshire), Webpresence helps clients generate high-quality B2B leads online, close sales, and measure the impact of online marketing channels. Set up by Lee Jackson, Webpresence is at the forefront of B2B lead generation services in the UK and combines talents in SEO, Social Media, Content Marketing and Online Branding.
Press and media enquiries: Lee Jackson on 01625 268072