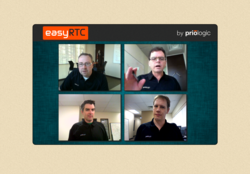 2013 is the year of the WebRTC enterprise pilot. There will be 3 billion WebRTC devices by 2016
Victoria, BC (PRWEB) March 13, 2013
Priologic Software is a sponsor of the WebRTC Conference-within-a-Conference at Enterprise Connect 2013 where they are unveiling their easyRTC Enterprise a WebRTC Enterprise Management System.
"2013 is the year of the WebRTC pilot," claims Priologic CEO, Doug Pelton, "there are many large enterprises that are just waking up to the fact that by the end of 2013 there will be 800 million WebRTC enabled devices, 3 billion by 2016. WebRTC is bringing with it a sea-change similar in scope to the web itself. The next generation will be using WebRTC enabled devices in place of cellphones."
"WebRTC has the potential to deliver a more direct connection to customers. The customer starts on the company web site and then opts to connect directly to the absolutely right person in the enterprise, someone who can solve their problem. WebRTC-based video or audio calls flow directly from the website, so the context of the web conversation flows directly into the call. There is a better customer experience and greater opportunity to guide you customer and in turn increase sales," says Pelton.
"easyRTC Enterprise provides faster time-to-market for enterprises developing and deploying WebRTC to their websites. Our source code and WebRTC Enterprise Management delivered as a platform-as-a-service will provide at least a two quarter boost to enterprise WebRTC projects," says Miles Vasey, Managing Director at Priologic.
easyRTC Enterprise is targeted for release at the end of March. For an early peek at easyRTC Enterprise, visit Priologic at the WebRTC Conference-within-a-conference at Enterprise Connect or at booth 1901.