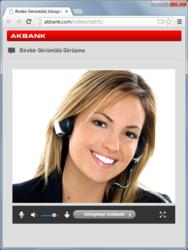 Requestec's technology works in all web browsers with nothing to install, and in any iOS or Android app.
London, UK (PRWEB UK) 26 June 2013
Requestec is proud to announce the launch of the world's first internet-banking HD video calling service at Akbank, a leading retail bank with well over 8 million account holders and market capitalization of around US$20 billion.
With the Zenon Gateway from Requestec, Akbank are allowing their customers to make a one-click video call from within Online Banking to one of their video enabled service agents. Requestec's technology works in all web browsers with nothing to install and in any iOS or Android app. Customers simply need to ensure they have a web cam and microphone for a secure, face-to-face video chat with a bank consultant. This forward thinking service by Akbank is the first of its kind in the world and brings Akbank closer to its customers promoting relations, trust and transparency right where it counts.
The solution works with the Genesys Contact Center suite and the bank's customer representatives may use either Bria from Counterpath or Requestec's Zenon Client for receiving video calls from customers. Customers can access the service in any desktop browser. Either Flash UDP or WebRTC will be used depending on the browser's capability. A mobile deployment on iOS and Android using Requestec's mobile SDKs is planned for later in the year.
"It's been a fantastically enjoyable project," said Ben Weekes from Requestec, "and I thoroughly enjoyed working with the Akbank team in bringing such a ground breaking service to life".
For more information, please click here: http://www.requestec.com
About Requestec:
Requestec has been delivering Video Calling, Conferencing and IVR software solutions since 2005. Through our flagship product, the Zenon IP Communications Gateway, we connect users on the web, and on iOS and Android devices, to services and agents in high quality live video and audio. We embrace the open standards surrounding video calling from H.323 and SIP through to HTML5, Flash and WebRTC, and provide development, consultancy and integration services to financial institutions, healthcare providers, educators and telecoms operators around the globe. With headquarters in London, we have offices in Asia, Europe and the USA.
About Akbank:
Since its foundation in 1948 Akbank has grown to become one of Turkey's largest private banks with total consolidated assets of approximately US$92 billion at the end of 2012. Its wide range of retail, commercial, corporate, private and international financial services, combined with state-of-the-art IT systems and experienced staff has positioned Akbank among the most profitable financial services institutions across Europe.