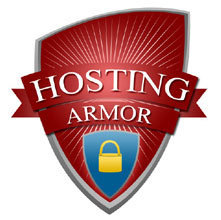 The problem is, most site owners know and understand how to run their business, but know very little about maintaining secure servers
Orlando, FL (PRWEB) August 18, 2010
HostingArmor.com, a Florida based Internet security company, announced the launch of its website security scanner. Supported by the Nessus scanning engine, HostingArmor provides site owners with a simple and cost effective way to understand their server's security vulnerabilities.
"I've seen, time and time again, situations when website owners will assume that their hosting company or their webmaster keeps their server patched and up to date and secure against web application vulnerabilities. All too often this is not the case. The problem is, most site owners know and understand how to run their business, but know very little about maintaining secure servers," says Sean Faircloth, Co-Director of Technical Operations.
HostingArmor is designed to be easy enough for even novice website owners to use, while providing the technical data necessary to ferret out any security holes in a web server. Traditional server scanning has, in the past, involved very technical installations and required that business owners either become security experts or fork over thousands of dollars to maintain their own security. HostingArmor was designed from the ground up to bring the same level of technical detail to a broader audience by making server security scanning easy to use and affordable. Unlike traditional scanners, HostingArmor's service requires no installation. Site owners simply add their "scan targets", or sites they wish to scan, to their account and can begin scanning for upwards of 30,000 different web server vulnerabilities.
Faircloth continues, "hackers aren't always interested in compromising a web server for the information in it or to simply destroy the server. Many servers are compromised and used by the hacker for other nefarious purposes like DDoS (distributed denial of service) attacks or even just for the use of the web server. Often, site owners don't know until it is too late and many end up responsible for the 'hangover' from such incidents – high bandwidth bills, abuse complaints, and so forth".
HostingArmor is offering a 30 day free trial to the vulnerability scanner, to help site owners assess their own security risks. The trial offer allows users to scan their own domains up to 35 times during the first month and provides full access to every feature available. More information about the company and the HostingArmor scanner is available at the Company's website.
About HostingArmor
HostingArmor is a privately held website security scanning company. The Company was founded in 2006 by professionals from the web hosting industry that saw and understood the broad absence of adequate security and security information across most websites. HostingArmor was created as an easy way for both network engineers and executives to understand the security status of high-volume e-commerce websites quickly and accurately. Using HostingArmor is fast and simple. Provide our scanner with your website address (or IP) and click submit. It's that simple. Really. For more information and a free 30-Day Trial, visit http://www.hostingarmor.com
# # #