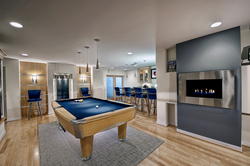 Synergy Design & Consulting's website is "[a] fresh, modern design for a Virginia-based design and construction firm," asserts DesignFirms.
Reston, VA (PRWEB) February 16, 2010
The website nabbed an impressive 91 points out of 99 to solidify its winning position. The judges awarded Synergy D&C's website with 29 points for creativity and design, a maximum 33 points for programming and compatibility, and finally 29 points for ease of use and effectiveness.
Mina and Mark Fies, founders of Synergy D&C, knew they wanted a website that would reflect their passion for interior design and home renovation while creating a consistent brand for their Virginia based design firm. After interviewing several different web design firms, they chose Marstudio. In addition to connecting personally, the Marstudio team took a big picture approach to branding; developing the logo and print collateral first and building a website that enhanced the look and feel of what was created.
"We knew we were going to invest a lot of time and energy into our site. It was not only important that we found a company we trusted with our vision, but that also made it fun and collaborative" stated Mark Fies. "Marstudio provided all of what we were looking for and exceeded our expectations on what they delivered."
Since the development of this award winning website, Marstudio and Synergy D&C have continued to collaborate together on site updates and enhancements. "We also would like to thank Synergy D&C for their continued support and trust in our capabilities as a design and development firm, and for giving us the free range we needed to produce such high-caliber work" concludes Sam Rooeintan, Vice President of Marstudio.
About Synergy Design & Consulting: Synergy D&C, a woman-owned business, is based in Reston, Virginia. Since its inception in 2008, they have helped countless busy professionals in the Washington, DC metropolitan area simplify the home renovation process.
Helping busy professionals navigate the design and renovation process through a collaborative approach and a strong commitment to exceptional customer service is this husband and wife team's passion. In addition to managing the architectural and interior design, Synergy D&C will also bid the design out to multiple general contractors on the homeowner's behalf and remain their advocate until the project's completion by offering unique construction management services.
About Marstudio: Marstudio, headquartered in Rockville, Maryland, is a highly qualified and competitive design and marketing firm with extremely diverse capabilities in web design, print design, multimedia design and a plethora of other design disciplines.
Since its inception in 2000, Marstudio has evolved from humble beginnings into a renowned and experienced design studio. This success would never have materialized if not for the tireless efforts of its two main co-founders, Sam Rooeintan and Adam Manrique, who were the creative visionaries behind the success of the firm. In 2007 Marstudio became an S3 Company. Synonymous with excellence, integrity and quality in the 21st century, S3 is emerging as a trusted and valued brand based in the United States.
###