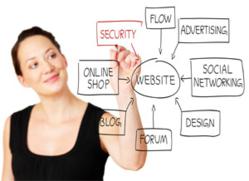 Scottsdale, AZ (PRWEB) March 01, 2013
SiteLock LLC, a global leader in website security for online businesses, today announced a strategic alliance with nonprofit internet security and trust organization Online Trust Alliance (OTA).
Online Trust Alliance works to make the internet safer through the promotion of trust, accountability, and online integrity. The OTA has a fundamental goal of affecting public policy through security recommendations, data stewardship, self-regulation and innovation, with consistent participation from its members. SiteLock and the OTA share similar principles, in that they both strive to protect organizations and consumers who function in the online marketplace.
For SiteLock, the partnership with OTA demonstrates their commitment to security best practices and the concept of building security into the design of websites, web applications and the online business infrastructure. SiteLock will participate in anti-malware and small and mid-size business focused initiatives and communities as part of its membership.
"As the pioneer in the space of website security for small businesses, joining the enterprise leaders in privacy and security-related policy is an exciting step for SiteLock," says Neill Feather, President of SiteLock. "Within just a few years, we have established partnerships with global leaders in the web hosting market and we look to our relationship with the OTA to help us expand our footprint within larger organizations as we share our small business expertise and gain insight from other members who serve mid-to-large enterprises within their respective markets."
The collaboration between SiteLock and the OTA is a critical step toward raising member awareness about the impact of security risks and breaches in the SMB market. At the same time, because there are many hurdles that larger organizations have successfully addressed, it is highly valuable for the small business online community to learn from the insights of thousands of enterprise-level companies. From educating businesses to corresponding with policymakers, OTA brings a strong influence to SiteLock's online presence.
About SiteLock
Established in 2008, SiteLock (@SiteLockSecure) has helped small businesses protect their websites and reputations through website security services and scanning. SiteLock offers the most affordable and complete website security and PCI compliance solutions available on the market. SiteLock helps protect websites against malware, spam, viruses and other forms of online threats from hackers. SiteLock's Expert Services team specializes in malware removal and harden website platforms to help prevent future attacks. SiteLock currently protects over 600,000 customers worldwide and scans over 3 million web pages daily for threats. Many of these customers are online merchants that rely on their website as their business storefront. Each subscription to the service includes SiteLock's Trust Seal, which is proven to increase sales and conversions by more than 10%. SiteLock is headquartered in Jacksonville, Florida and has offices in Scottsdale, Arizona and Boston, Massachusetts. For more information, call +1.877.257.9263 or visit http://www.sitelock.com.
About the Online Trust Alliance (OTA)
The Online Trust Alliance (OTA) is a non-profit with the mission to enhance online trust, while promoting innovation and the vitality of the internet. OTA's goal is to help educate businesses, policy makers and stakeholders while developing and advancing best practices and tools to enhance the protection of users' security, privacy and identity. OTA supports collaborative public-private partnerships, benchmark reporting, meaningful self-regulation and data stewardship.