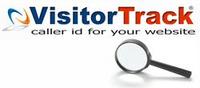 Caller ID for Your Website™.
Denver Tech Center, CO (PRWEB) January 26, 2009
netFactor Corporation has announced their selection as a presenter for the upcoming Venture Capital in the Rockies Conference. This annual event held in Beaver Creek, CO showcases the region's most promising emerging growth companies.
Venture Capital in the Rockies is the largest and oldest capital conference in the Rocky Mountain region. Each year the VCIR Winter event selects a limited number of companies to present to an audience of over 300 venture capital investors, CEOs and entrepreneurs.
"To engage with the VCIR business audience is both a privilege and opportunity for us," announced Christopher Jeffers, CEO of netFactor. The Denver Tech-Center company provides a range of products for Internet marketing performance. netFactor's core Saas (Software-as-a-service) product, VisitorTrack®, is like "Caller ID for a Website™". Designed specifically to generate sales from the traffic to a website, VisitorTrack® converts invisible website visitor 'clicks' into actionable B2B sales leads - automatically without any Visitor registration action.
"We have seen considerable velocity in this market and at netFactor with 2008 customer growth rates exceeding 350%," said Mr. Jeffers. "As more and more companies seek to drive new efficiencies from their online marketing investment VisitorTrack® continues to be the leading application for website visitor tracking and lead generation. This opportunity to collaborate with a new venture partner can help to accelerate new product offerings and customer acquisition."
Venture Capital in the Rockies will be held in Beaver Creek, March 3rd through March 5th at the Park Hyatt Hotel.
About netFactor
netFactor Corporation provides a suite of products to drive new levels of sales performance from Internet marketing for the business-to-business market. The company's core VisitorTrack® technology platform, integrates lead generation, marketing intelligence and Web analytics into a powerful application for website lead generation - it's like "Caller ID for Your Website™." netFactor is privileged to serve customers in nearly every industry to include software, telecom, healthcare, technology, financial, professional services, manufacturing, and transportation. For more information on netFactor Corporation's performance-driven products and services for Internet marketing, please visit http://www.netFactor.com.
# # #