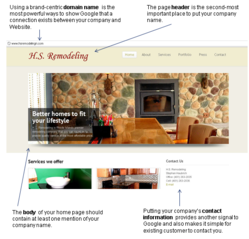 Los Angeles, CA (PRWEB) July 05, 2012
For over a decade, home improvement contractors have been constantly reminded they need a Website yet a notable percentage still rely largely on word of mouth to grow their businesses. Other contractors have developed Websites only to see little or no impact to their bottom line.
To help contractors better understand how their Website can be effectively utilized to drive business growth, BuildZoom has launched Websites for Contractors, a free guide that explains how a contractor's Website can be used to connect with existing customers, convert prospects into new customers and acquire new business leads through search.
The guide not only provides contractors with a strategic framework for how they should think about their Website, it also illustrates specific techniques and best practices to help contractors maximize the value associated with their Website efforts.
The guide is available in a Web and mobile-friendly format at: http://www.buildzoom.com/info/resources/website-development-for-contractors
About BuildZoom
BuildZoom empowers homeowners to make better hiring decisions by providing them with a simple and effective way to find the best service provider for their next job. BuildZoom uses a Big Data approach that analyzes over 1.8 million remodeling contractors in the US against a broad set of quality indicators such as their license status, BBB ratings, consumer feedback and more. Each contractor is given an independent rating that determines their placement on BuildZoom.com, where consumers can freely browse and search to find the right service provider for their next job.