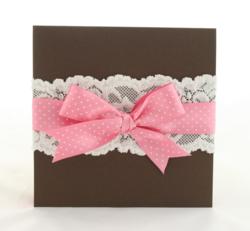 ....because not all wedding invitations are the same
Sussex, England (PRWEB UK) 11 October 2011
Handmade by me, located in Sussex, England, announced their latest line of wedding invitation designs for brides who are planning to be married during the 2012 wedding season. The company, whose elegant invitations were considered for the Royal Wedding in 2011, is well-known for creating high-quality, eco-friendly invitations.
The growing trend of environmentally-friendly celebrations is currently being seen in wedding planning, and more and more brides and grooms are opting for sustainable ways to commemorate their bond. Although this is not a new trend, environmentalism continues to gather momentum throughout the U.K. and beyond. Besides invitations, adding green touches to a wedding doesn't just demonstrate a commitment to the eco-friendly lifestyle, but can also save the concerned brides a bit of money.
Brides who are considering ordering eco-friendly invitations may be concerned about the quality of the invitations. Often items printed on earth-friendly or recycled paper look like just that. The paper is low-quality and does not last. Since wedding invitations are often kept and even framed as mementos or keepsakes, it's important to choose invitations on paper that will last. Handmade by me has solved this problem. Not only are the invitations elegant and attractive, they are printed on paper that is safe for the earth and protects precious natural resources.
Along with the five new designs being introduced for environmentally conscious brides to consider, Handmade by me is also offering free save-the-date cards to celebrate both the launch of the new line and the completion of 10 successful years in business.
In addition to providing high-quality wedding invitations, Handmade by me also offers the following advice to brides seeking to have a wedding that stays in line with their eco-friendly lifestyle:
The "Beatrice" line is an excellent example of the style and sophistication that Handmade by me offers. The six-inch square cards are pleasing to the touch and have an elegant and beautiful ribbon design, with a unique and charming silver locket with an attached key. The colour of the ribbon and the mounting can be personalised, allowing a bride to choose a shade that matches her wedding theme. Each invitation features a pocket the RSVP card as well as envelopes and the package comes with printed guest labels.
Along with providing the invitations, Handmade by me also has lines of eco-friendly RSVP cards, thank-you cards, table plans, menus and place cards. They will also work together with brides to come up with unique, personalised messages for the invitations and thank you cards. With just a bit of forethought and planning, it's easy for any bride to be a part of the environmentally friendly trend sweeping the globe, while still maintaining individuality, elegance and class.
To learn more about personalised invitations, Wedding, Christening and Bespoke invitations, please contact Handmade by me through their website, http://www.handmadebyme.co.uk. Handmade by me has also launched a new website.
About Handmade by me:
Handmade by me is owned by Samantha Thomsett and she is helped run it by a team of 5 ladies. They are one of the U.K.'s top providers of high-quality invitations for over ten years. Based in Sussex, England, the company has been recommended by Vogue as the Number One supplier of wedding invitations in the U.K. In addition to wedding invitations, the company is also known for their elegant and stylish Christening invitations, Photo Christening invitations, Baptism invitations and Thank You cards.
###