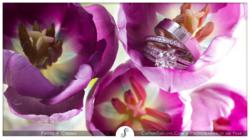 The natural light outdoors made for great wedding shots, but we used lights for the ring pictures
San Francisco, CA (PRWEB) October 08, 2011
As part of their wedding photography package, many couples want pictures of their rings and other bridal jewelry, says San Francisco wedding photographer Michael Soo in the latest post on his photography blog. Soo says the skills needed to capture the sparkle of engagement jewelry are different from the skills he uses for the other wedding photos; in fact, it's his skills as a commercial photographer that really come in handy when getting up close and personal with bridal jewelry.
"Using a close-up macro lens is important for jewelry shots, of course, but lighting is the ultimate key. Natural lighting tends to work badly for ring shots, due to a reflective blend of colors that can mottle the jewelry," explains Soo. "To really make the jewels sparkle, close-up photographs tend to need a LOT of light and they need to be well-placed lights."
For one recent wedding at the Ranch Golf Club in San Jose, Soo photographed the couples' engagement rings inside a purple tulip—the bride's flower of choice. Soo says that when shooting semi-translucent things like flower petals and leaves, lighting is especially important, because can cast a tint on the jewelry.
"The rings in the purple flower would look dingy and purple, had the setting not been backlit with well-placed lights and reflected back," says Soo. He says taking the extra time to set up the lighting can make all the difference. "This shot took us just a few minutes, but could easily be used by a jewelry company for a full two-page spread advertising in a fashion magazine!!!"
Another shot featured in the jewelry photography post is from a wedding at Far Niente, a high-end Napa winery that normally does not host weddings, but made an exception because the groom is an employee. The photograph features the rings wrapped around a grape leaf, with a bunch of ripening grapes in the background.
"The natural light outdoors made for great wedding shots, but we used lights for the ring pictures," Soo notes. Like the tulip shot, natural light flowing through the grape leaves could have muted the beauty of the rings, but "by carefully lighting the rings in this shot, we made them sparkle and really pop against the green leaves and purple grapes."
He also features a photo of rings taken at a wedding at the Ahwahnee Hotel in Yosemite. The groom has two children, so the couple bought rings for everyone, to symbolize the union the whole family was forming together. Soo stacked the rings "to show how the family's rings were a symbol of their togetherness."
Soo posts some examples of jewelry from his commercial product photography portfolio for comparison. "As you can see, the type of work is not much different from the personal jewelry shots!!"
For more information about bridal jewelry and wedding ring photography or any of Soo Photography's services, call Michael Soo at (408) 666-8455 or visit the website at http://www.soophotography.com.
About Michael Soo and Soo Photography San Francisco
Photographer of the Year Michael Soo is a San Francisco professional photographer who specializes in commercial, corporate, food, portrait, product, editorial, family, fashion photography, lifestyle, fine art, landscape, and wedding photography in San Francisco. He is also a wedding and love story videographer.
Brought up in Asia and educated in America, Michael fuses the best of both cultures in his art form. He gives back to the community by giving photography and Photoshop classes. He hosts free photography forums for over a thousand of active Northern California amateur and semi-pro photographers alike.
Named Popular Photography Magazine's Photographer of the Year, Michael Soo is an internationally respected photographer and guru of digital imaging. His collection of fine art and commercial photography includes executive portraits, lifestyle, products and food. His work has also been featured on numerous international magazine covers, newspapers (i.e. New York Times), as well as exhibits.
Soo Photography serves San Francisco and the Bay Area communities of Atherton, Belmont, Berkeley, Brisbane, Burlingame, Campbell, Colma, Corte Madera, Cupertino, Daly City, El Grenada, Foster City, Fremont, Gilroy, Hillsborough, Kensington, La Honda, Los Altos, Los Altos Hills, Los Gatos, Marin, Menlo Park, Millbrae, Mill Valley, Montara, Monte Sereno, Mountain View, Oakland, Pacifica, Palo Alto, Pescadero, Piedmont, Portola Valley, Redwood City, San Bruno, San Carlos, San Gregorio, San Mateo, San Francisco, San Jose, San Rafael, Santa Clara, Saratoga, Sausalito, Sunnyvale, Tiburon, and Woodside.
###