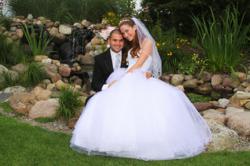 Aware Bear offers professional wedding photography services at affordable prices in Rochester, New York.
Rochester, NY (PRWEB) October 25, 2012
Couples looking for a professional wedding photography business in Rochester, NY can count with Aware Bear's professionalism when it comes to professional wedding photos in Rochester and all Upstate, NY. Professional wedding photographer Andre Alves, has the experience and understands the wedding industry.
"Aware Bear works with one professional photographer and not a team of 10 or 20 photographers. What couples see on the portfolio is what they will get at the day of their wedding. Keeping things simple are a great way to do business. Many wedding photography studios show clients a portfolio that may have the work of 20 photographers and the photographer may no longer be working with the photography studio or may be already booked. At Aware Bear we make sure to use one photographer and limit our weddings to only 25 per year" said Andre Alves from Rochester, NY.
Limiting the weddings to 25 per year ensures all the attention will be given to the bride and groom. This will give the wedding photographer time to meet with couples along the way and ask any questions the couple may have.
For the 2013 wedding season in Rochester, NY Aware Bear is keeping the prices from 2010. For another year Aware Bear Wedding Photography has not increased prices and it is working really hard to give couples the best wedding photography photos and prices in all Upstate, New York.
Syracuse, Buffalo, Niagara Falls, Toronto Canada, New York City and Boston are a few cities served by Aware Bear professional wedding photography. Aware Bear also offers engagement photos and rehearsal dinner photos.
"With 20 years' experience as a professional wedding photographer, I attended RIT (Rochester Institute of Technology) school of photography and have the experience and the passion to capture your wedding day and translate it to beautiful photos that will be remembered for many years to come" says professional wedding photographer Andre Alves from Rochester, New York.
For more information about Aware Bear professional wedding photography services, please visit http://awarebearphoto.com or call (585) 473-7035. Aware Bear Wedding Photography is located on 5 Monroe Avenue in the downtown Pittsford, NY 14534.
Aware Bear offers free initial consultations by appointment only, contact Aware Bear Wedding Photography services today in order to find out more about the wedding photography services in Rochester, NY.