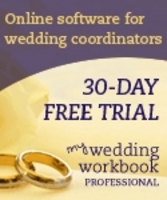 Wedding planners are looking for any advantage to serve their clients better and prove their worth
Denver, CO (Vocus) October 30, 2010
My Wedding Workbook Pro, the next-generation online system for wedding consultants to manage their events and clients, is poised to launch a suite of new tools for wedding planners to create detailed budgets, proposals, contracts and invoices as well as manage all their business finances.
The new features will enable wedding consultants to manage all their critical business details via My Wedding Workbook Pro's one-of-a-kind online wedding planner software, making it the first true Web-based "business-in-a-box" for the industry.
"With these new wedding budget and business accounting tools alongside our existing tools, wedding consultants no longer have to use two or three systems or pieces of software to manage their events, clients, vendors, proposals, contracts, invoices and accounting, because My Wedding Workbook Pro will let them do it all in one convenient place," said Jeff Kear, co-owner of My Wedding Workbook Pro.
The new budgeting and accounting tools will enable wedding consultants to:
Create customized budgets for their clients and add categories and line items where necessary.
Track payments and expenditures as well as ongoing totals for clients.
Create custom proposals for clients, including the ability to add packages and a-la-carte items as well as contracts.
Create and manage invoices to clients, including the ability to add custom line items, charge commissions and send email invoices.
Manage the income and expenditures for their business (money in/out), including the ability to categorize expenses and print out reports.
The company has slated a December 8, 2010, launch for the accounting tools, while the budgeting tools have already been installed and are available to users now.
"Since we launched our wedding professional software in fall 2009, we have been constantly talking with our users to learn what new features would benefit them," said Kear. "In the intervening months, we have built new tools for day-of-wedding itineraries, client notes, time tracking, an ideas-&-inspiration board and a wedding website builder for couples, all based on client feedback. And now we're proud to unveil this new set of budgeting and accounting tools, all created with input from our valued users."
Because these new tools will be integrated into My Wedding Workbook Pro's existing online system, wedding consultants can easily share budgeting and billing information with their clients via the Web, streamlining the process and making it easier for both parties.
"Wedding planners are looking for any advantage to serve their clients better and prove their worth," said Kear. "My Wedding Workbook Pro's unique features allow them to offer clients more services while improving their communications with clients. This is why our system is being used by more and more wedding planners every month."
The company encourages wedding planners to try out their online system - including the new tools - with a 30-day free trial. To sign up for the trial, one can visit the My Wedding Workbook Pro Web site and register online.
About My Wedding Workbook Pro
My Wedding Workbook Pro is the first comprehensive, Web-based event management and wedding planning software system for wedding consultants and venues that offers a new and better way to collaborate with clients online; manage events, clients and vendors (and, in December 2010, budgets, proposals, invoices and accounting); and expand the number of services consultants offer to clients. It offers added convenience over traditional software because it is completely online (requiring no downloads or installation); accessible anywhere, anytime, on any Web-enabled computer; and fully compatible with PCs, Macs and iPads. Its sister company, My Wedding Workbook, is the next-generation online wedding planner for brides who want a better way to manage their wedding details.
###