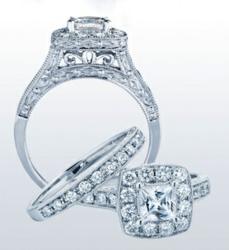 The most popular styles in Diamond Engagement Rings and Bridal Set are offered at a 20-40% savings.
New York, NY (PRWEB) November 23, 2012
The holidays are one of the most popular times of the year to become engaged. To help decide which engagement ring to choose, Jen Merksamer, Marketing Director of Diamond Classic Jewelry, talks about the Top Five Trends in Diamond Engagement Rings and Bridal Sets.
PRINCESS CUT DIAMONDS
The popularity of the Princess Cut diamond continues to soar as the diamond shape of choice for the center diamond in an engagement ring or wedding ring set.
The Princess Cut was developed to conserve the carat weight of the rough diamond. Ms Merksamer explained, "Less waste in the cutting process translates to a lower price per carat for the consumer! "
The Princess Cut is also popular because it is a very versatile diamond cut which looks great in both contemporary and vintage styles. It is beautiful in an invisible setting as a Princess Quad, which gives the impression of one large diamond. Jen says, "It's a great way to get a big, beautiful look for a much more reasonable price."
ENGAGEMENT RINGS WITH HALOS OR FRAMES
A diamond halo is basically a frame that surrounds the center diamond in an Engagement Ring. A halo or frame is one of the characteristics of the vintage style and has the wonderful effect of making the center diamond appear to be larger.
RINGS WITH DECORATED SIDE VIEWS
Big name designers decorate the side view in may different ways: with pave diamonds, bezel set diamond accents and filigree engraving.
In the side view you can see the graceful arches of a cathedral setting or a beautifully decorated gallery as part of a halo. Ms Merksamer explained, "The customer loves these rings because the entire ring is part of the design and all the attention to detail creates a stunning and special engagement ring"
VINTAGE STYLE ENGAGEMENT RINGS
Vintage Style characteristics of Engagement Rings have maintained their popularity for years now with no sign of fading. These rings are very romantic and feminine with great attention to detail and elaborate decoration.
These rings are always white gold rather than yellow gold and the diamond accents are often in pave, shared-prong or prong style settings. They boast halos or frames around the center diamond, sometimes achieved in twist setting resembling a love-knot.
These style rings have maintained their great popularity because they remind us a simpler, more romanticized era and they are always incredibly beautiful.
SOLITAIRE ENGAGEMENT RINGS WITH CHANNEL SET DIAMOND ACCENTS
The Channel Accented solitaire is is a contemporary classic and the swirl and collar styles are particularly popular.
Jen states , "They are two of the most popular styles our customers choose to upgrade to Signature Quality - SI Clarity with a GIA certificate"
Diamond Classic Jewelry, with offices in New York City, is an on-line jeweler specializing in Diamond Wedding Ring Sets, Diamond Engagement Rings and Diamond Wedding Bands.
Sam Merksamer, CEO, believes that the on-line jewelry store is the best way to deliver selection, value and quality to today's jewelry consumer. Sam said, "Our objective is to offer the best selling bridal styles to customer at value pricing. You will find that our prices are 20-40% less than traditional mall and on-line jewelers who have the same or similar merchandise."