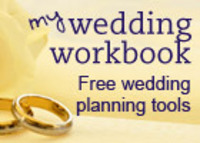 Saturday is the most popular day of the week for weddings simply because it's the most convenient day for guests
Denver, CO (Vocus) October 30, 2010
Despite the fact that Saturday is usually the most expensive day of the week to rent wedding venues, most engaged couples are still holding their ceremony and reception on Saturday in the late afternoon or evening.
According to a survey conducted by My Wedding Workbook, the next-generation online wedding software and wedding planning system, 73.7% of the 836 brides surveyed responded that they were going to hold their ceremony on a Saturday, with another 11% preferring Friday and 9.4% opting for Sunday.
In addition, 41.6% said they would hold their reception in the evening, with 36.1% preferring the late afternoon, 20.1% early afternoon and 2.2% morning.
"Saturday is the most popular day of the week for weddings simply because it's the most convenient day for guests," said Jeff Kear, co-owner of My Wedding Workbook. "Most people won't have to take off time from work to attend a Saturday wedding, and it's often easier to make travel plans around a Saturday wedding as opposed to a Friday, Sunday or another weekday."
With the U.S. economy still slumping, many brides have looked to cut costs wherever they can without sacrificing the quality of their event, which often means that they might settle for less expensive meal choices or opt for a cash bar. But when it comes to the convenience of a Saturday night, most are still willing to pay a premium for the time slot in highest demand.
"The Saturday night wedding has almost become a foregone conclusion for most couples, meaning that they don't even investigate alternatives," said Kear. "For starters, they will probably have to book a Saturday wedding a year or so in advance at their preferred venue, whereas they might have a lot more flexibility if they considered a Friday or a Sunday wedding. And if you need to move your date, you will find most venues to be much more accommodating when you're moving a Friday or a Sunday."
In addition, reserving a venue for a Saturday night might involve a larger and even a non-refundable deposit as opposed to reserving another night of the week. And as for total cost, Saturdays are by far the most expensive for renting venues because these dates are in such high demand, especially in the late spring, summer and early fall. This is why it's much easier to negotiate rates for a Friday or Sunday as opposed to a Saturday. Professional wedding consultants / wedding organizers realize this and often get great deals for their clients on these off-days.
Another factor that many couples don't consider is that many vendors - such as caterers, florists and officiants - also charge premium rates for delivering their goods and services on a Saturday. "Some vendors have multiple wedding clients they are serving on any given Saturday, so if you have a Friday or Sunday wedding they might be more likely to come down on price or provide more spiffs," said Kear.
As for those couples who plan a Friday or Sunday wedding, most discover that very few invited guests decline to attend because their wedding isn't on a Saturday. "Your family and true friends want to see you get married, and for the most part they don't really care when or how," said Kear. "They just want to be part of it and will plan their schedule around yours."
About My Wedding Workbook
The next-generation online wedding software and planner, My Wedding Workbook provides all the guidance and resources a bride needs to plan a wedding on her own, in her own way. Included in this comprehensive system is online wedding software, with tools for managing guests, budgets, calendars, RSVPs and more; a wedding website builder with online RSVP; complete worksheets and checklists to ensure everything is covered; and, coming soon, a step-by-step wedding planning guide that walks a bride through every detail she needs to know.
###