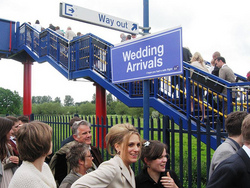 "The train looked fantastic, the guests had an unbelievable experience, and the bridal couple were immensely happy with everything."
(PRWEB) June 3, 2010
Train Chartering has operated a private charter train for a wedding party from London's Southwark Cathedral to a stately country mansion in the English countryside.
Two hundred passengers travelled in first class carriages from London Bridge Station in south London to King's Sutton, a rural station close to Banbury in Oxfordshire. Train Chartering's clients were GSP Ltd, an event management and production company.
The passengers were the bride and groom and guests at a marriage in Southwark Cathedral which is a few minutes' walk from London Bridge. There were expecting to have to travel all the way to the wedding reception in Aynhoe Manor in buses; the charter train was a well-kept secret.
En route to King's Sutton, a classic English cream tea was served by uniformed stewards - fresh finder sandwiches, scones with jam and clotted cream, delicate cakes and small tartlets and of course the finest tea.
Sarah Sigré, the event manager and producer used by GSP, is enthusiastic, "The train looked fantastic, the guests had an unbelievable experience, and the bridal couple were immensely happy with everything."
Simon Pielow of Train Chartering said "A cathedral wedding and an English country house reception, linked by a cream tea in a private train; of such are life-long memories made."
Since 1998, Train Chartering has specialised in quality private trains for charter / hire, as well as offering private carriages in scheduled trains and private rail cars attached to regular train services.
Train Chartering provides catering and other onboard services as well as facilitating the branding and theming of the train or carriage. This creates a memorable and unique event for every charter. The company's delivery of project and guest management services is unique in the rail industry; caring for every aspect of the event, from first contact through ground handling in stations and transfers to the post-trip event.
Information:
Train Chartering, Simon Pielow, +44 -0- 1249 890 176
Notes to Editors
1. More information and photos from Train Chartering.
2. Train Chartering's Private Rail Cars promotes the hire of private rail cars in the USA and Canada that are attached to the rear of scheduled train services. An idea for the honeymoon - a luxury rail car from New York Penn Station to California.
3. Train Chartering's Luxury Train Club offers most of the luxury trains of the world for individual bookings or the hire of private carriages, perfect for the ultimate getaway honeymoon.
4. Train Chartering's Soundwave Express illustrates how a private train can be themed for a special event such as a high profile wedding reception.
5. GSP, Train Chartering's clients, are specialists in event management and production. They create bespoke, exciting and memorable events with passion, commitment and innovation. From large scale productions to intimate events the objective is always to achieve the 'Wow Factor' through attention to detail, individuality, innovation, style and impact.
6. Aynhoe Park is set in the quintessentially English village of Aynho on the Oxfordshire/Northampton¬shire border. With an array of beautiful reception rooms and exquisitely appointed bedrooms, Aynhoe also has gardens and a park that are perfectly proportioned to accommodate marquees or temporary structures. This is the first time in over 400 years that the house has been made available for private events.
# # #