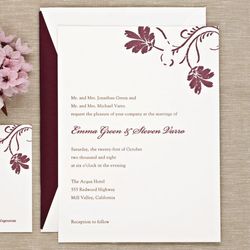 Through this partnership we can continue to provide our customers with the superior quality craftsmanship they expect from us.
Mountain View, CA (PRWEB) March 20, 2008
Wedding Paper Divas (http://www.weddingpaperdivas.com)], the preferred online destination of brides-to-be for modern wedding stationery, announced today the launch of its Letterpress Collection, which will be offered through a partnership with William Arthur , one of the world's finest producers of luxury stationery.
Starting today, customers can order exclusive letterpress wedding suites from some of the most popular designers on Wedding Paper Divas. This exclusive Letterpress Collection will only be available on the Wedding Paper Divas Web site and each order placed will be printed by William Arthur on their fine signature papers.
"We are excited to partner with William Arthur and expand our product line to include more luxury stationery options," said Laura Ching, VP of Merchandising at Wedding Paper Divas. "Through this partnership we can continue to provide our customers with the superior quality craftsmanship they expect from us."
The Wedding Paper Divas Letterpress Collection represents the marriage of contemporary designs, state-of-the-art technology and personalization tools, and outstanding customer service with the most traditional printing method available.
"We are certain that the sophisticated and modern designs and colors offered by Wedding Paper Divas, combined with our long-standing tradition of fine quality letterpress printing, will inspire engaged couples," said Sean Tabb, VP of Marketing and New Product Development at William Arthur.
For more information on the Wedding Paper Divas Letterpress Collection, please visit weddingpaperdivas.com
About Wedding Paper Divas
Based in Mountain View, California, Wedding Paper Divas offers premium, personalized wedding invitations and stationery. Wedding Paper Divas works with well-known, as well as up-and-coming, artists who design wedding invitations, bridal shower invitations and thank you cards that fit today's trends and romantic inspirations. Every design on Wedding Paper Divas is exclusive, which means it cannot be found anywhere else online or offline. Additionally, all Wedding Paper Divas products are printed on the highest quality paper and are completed in a fraction of the time for a fraction of the cost of most local wedding retailers.
About William Arthur
In business for nearly 60 years, William Arthur is widely considered one of the finest makers of luxury stationery, including wedding invitations, baby announcements, social stationery and holiday greeting and photo cards. The company delivers superior quality through fine handcraftsmanship of its products with the fastest order turn-time in the industry. Orders for William Arthur stationery can be placed at select fine stationery retailers nationwide and are printed and shipped in three business days. For more information about William Arthur, please visit the company's website at http://www.williamarthur.com.
Media Contacts:
Lea Armstrong
Wedding Paper Divas
650-209-1360
lea.armstrong @ weddingpaperdivas.com
Sandra Raymond
William Arthur, Inc.
800-985-6581, ext. 553
sjraymond @ williamarthur.com
# # #