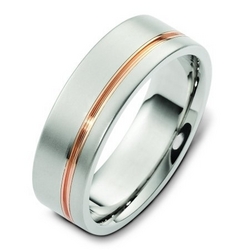 Minneapolis, MN (PRWEB) September 30, 2008
A new line of wedding rings artfully crafted to the finest quality with precious metal or a combination of metals is being introduced by WeddingBands.com. These wedding bands are made with 14K, 18K white or yellow gold, titanium, palladium, platinum or combinations of these metals. The platinum and palladium wedding bands are manufactured with 95% platinum or palladium.
WeddingBands.com displays thousands of artfully crafted women's and men's wedding bands and anniversary rings of exceptional originality and spirit. These beautiful wedding and anniversary rings are the dramatic result of these basic components: Perception, Design, and Fabrication.
Perception: A high degree of 'artistic acumen' for exacting and original design is reflected in this fabulous new line of contemporary wedding rings. WeddingBands.com's handcrafting of women's and men's wedding bands with classic overtones and precise refinement attests to the crowning achievement of the master jeweler's art.
Design: Wedding Bands.com, legacy of its extraordinary 'masterworks of design' is traced to the fabled and ancient city of Byzantium. Its heritage of inspiration and creativity forms the basis of preeminent jewelry expression that wedding bands.com has continued to this day. Given this creative context, WeddingBands.com's artisans have continued this unique and inspired method of jewelry fabrication.
Fabrication: WeddingBands.com uses the latest technology as well as the basic tools which have been used since the earliest and finest handcrafting of jewelry: high resolution multi-axis CNC machines and the hammer, the snipe and the file. Together they form the lintel of the exquisite crafting of WeddingBands.com's women's and men's wedding rings. Wedding Bands.com utilizes the highest quality of precious metals and diamonds. It forms the basis of all of its jewelry.
With the basic frame completed, Wedding Bands.com blends the intricate hand fashioned components of gold and platinum twist wire braids of graceful center patterns that augment and compliment each design. The diamonds used in our diamond wedding bands are VS in clarity G-H in color and are cut to the maximum reflection of light and brilliance.
About WeddingBands.com
Originally founded as Princess Jewelry in St. Paul, Minnesota in 1985, the company branched out to form an internet business in 1996 as WeddingBands.com. More than 20 years of retailing experience in wedding bands, bridal settings, and gift jewelry goes into making WeddingBands.com's timeless offering of unique designer jewelry, including an exquisite selection of platinum and/or gold diamond wedding rings and wedding bands. To see the complete selection, please visit http://www.WeddingBands.com.
Contact:
John Kerkinni
888-422-4333
John@WeddingBands.com or CustomerService@WeddingBands.com
###