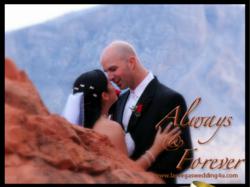 Most exotic and beautiful wedding locations in Las Vegas
Las Vegas, NV (PRWEB) November 21, 2012
Always & Forever Weddings and Receptions is pleased to announce their all-new Valley of Fire Weddings Las Vegas package starting as low as $795. Valley of Fire is the oldest state park in Nevada known for its stunning red sandstone formations formed by prehistoric sand dunes.
Valley of Fire weddings are extremely popular given the natural beauty of the surroundings. Always & Forever Weddings and Receptions is one of the only companies licensed to perform wedding ceremonies at this one-of-a-kind locale. Wedding parties without a permit are escorted off the park's premises immediately.
The Valley of Fire Weddings Package comes in two versions: Always Yours and Forever Deluxe. The Forever Deluxe package includes complimentary limousine service to and from ceremony for up to four guests, professional photographer (includes picture package), minister, Valley of Fire state park fee, DVD of the ceremony, bridal bouquet, groom's bouquet, and wedding party bouquets.
Raquel Ryan, Certified Wedding Consultant and GM of Always & Forever says, "We're known for offering the most exotic and beautiful wedding locations in Las Vegas, so when we were presented with the opportunity to offer weddings at this gorgeous location we jumped at the chance. Words cannot do Valley of Fire justice. Once clients see photos their sold. And when they arrive at the venue they're breath is taken away by the natural beauty. The package is only available for a short time. Mention the weekly special and receive 10% off."
To learn more about the Valley of Fire wedding package and to view pictures of the location visit our website today.
About Always & Forever Weddings and Receptions
Always & Forever Weddings and Receptions is a Las Vegas wedding firm known for their innovative planning and breathtaking Las Vegas wedding locations. Raquel Ryan is founder of the firm and is passionate about helping couples plan the wedding of their dreams no matter what their budget. Ms. Ryan and her team have won several prestigious awards for their outstanding service and elegant locations.
Contact Name: Raquel Ryan
Contact Phone: 702-318-5683
Email: questions(at)lasvegaswedding4u(dot)com
Website: http://lasvegaswedding4u.com/wedding-packages/valley-of-fire-wedding-packages/
Always & Forever Weddings and Receptions
2902 Lake E Dr, Las Vegas, NV 89117
(702) 318-5683 | (800) 259-2978
http://lasvegaswedding4u.com/