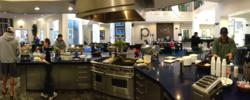 "I really enjoy after working out, being able to come down to a smiling face, and hot breakfast with Barb. It's something to look forward to, and be able to meet new friends." – Jerry E, Aspire resident
Phoenix, AZ (PRWEB) March 10, 2013
There are three Phoenix-area apartment communities that have found a unique way to create "value" in apartment living! Beginning last fall, the communities (Aspire Pinnacle Peak, Phoenix, and Visions Energy/Visions Serenity, both Peoria) began serving hot breakfasts to their residents every weekday morning.
The communities, managed by Weidner Apartment Homes, call the program "Wake Up with Weidner", and it's not your typical "bagel-and-coffee" breakfast. Early each morning Barb Vik, the Café Specialist, rises before the sun is up to cook everything from eggs and bacon or biscuits and gravy to pancakes and waffles – there is even a vegetarian option. "The line forms around 6:45 am with folks who are on their way to work or school…other residents will sit and visit, read the paper and drink coffee until 9:00am," said Ms. Vik.
The communities are currently hosting 100+ residents every morning. And what do the residents think of this? "It has been a blessing for so many of them," said Community Director Lisa Stoss. "We started the Wake Up with Weidner program as a way to give something back to our residents, something special. It has become so much bigger than we had envisioned; it has made a real difference in the lives of so many here. Who doesn't like having someone make them a hot meal to start their day?"
In addition to the increased value to residents, the biggest compliments have been about making new friends, enjoying a great meal, and seeing a friendly face in the morning.
"We fell on some hard times in our family and downsized considerably. We were skeptical about moving to an apartment. Living here at Aspire has been a great soft landing to a big fall…you throw Barb's breakfast in and it is crazy to imagine living anywhere else." – Jerry R., Aspire resident
"Barb is great and my daughter and I look forward to the breakfast every morning – it is one of the reasons I moved in hear [sic]." – Brock M, Aspire resident
"I really enjoy after working out, being able to come down to a smiling face, and hot breakfast with Barb. It's something to look forward to, and be able to meet new friends." – Jerry E, Aspire resident
It turns out it may be good business as well. Stoss noted that renewals among residents at the three communities have increased as a result of the program. "People are renewing their lease because of it!"
While currently rolled out at two communities, Weidner is looking at extending the program to more of their communities in the Valley. "We are definitely going to do more things like this for our residents, whether it's breakfast at other communities, pizza night, or something else. This is just the beginning."
# # #
About Weidner Apartment Homes
Founded by W. Dean Weidner in 1977, Weidner Apartment Homes is a real estate investment and management company, recognized industry-wide as an efficient provider of quality rental homes and a creative developer of new housing. To provide the benefits of regional and economic diversity, their properties are located in: Alaska, Arizona, Colorado, Texas, Washington, and Canada. Their portfolio in Arizona includes 26 apartment communities from Phoenix to Tucson, and represents almost 8,000 apartment homes. The company is headquartered in Kirkland, WA. For additional information, visit http://www.Weidner.com or e-mail info(at)weidner(dot)com.