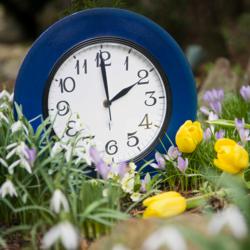 "While following a weight-loss program, it's essential to stay healthy so you have the strength and energy to prepare and eat healthy meals and exercise regularly," said Regan Tessis, ND Vice President of Scientific Affairs and Consumer Health
Toronto, Ontario Canada (PRWEB) March 08, 2013
Many Canadians may feel the need to supplement vitamin D during those dark and dreary winter days, but wrongly believe that supplementation isn't necessary once the days get longer. This simply isn't true. Keep reading to learn how Herbal Magic's wide range of scientifically proven natural health products – vitamin and mineral supplements, including vitamin D – can enhance overall health during the weight-loss journey.
While vitamin D is one of the few vitamins naturally made by the body, many experts believe that North Americans may still be vitamin-D deficient after exposure to sunlight for a variety of reasons. For one, at the same time that sunlight is stimulating vitamin D production it's also exposing the skin to harmful UV rays linked to premature ageing and skin cancer. Vitamin D is present in food, but it would be difficult to consume enough fatty fish, milk and beverages fortified with vitamin D (like some brands of orange juice or soy products) to consistently achieve Health Canada's recommended daily allowance of 600 IU per day (for those aged 70 and under).
Most importantly, vitamin D is far more important to the body than its misunderstood rep as the "sunshine supplement" suggests. Vitamin D is crucial for the development and maintenance of bones and teeth, and helps maintain a healthy immune system. Herbal Magic's vitamin D supplement provides an easy-to-absorb, effective amount of vitamin D3 for proper immune system function and the maintenance of adequate calcium levels in the body.
Now, what do vitamins and minerals have to do with weight loss? The Herbal Magic weight-loss program is based on a combination of three pillars: eating real food, receiving and participating in one-on-one coaching, and incorporating natural health products.
Vitamins and minerals are essential to good health. They boost the body's immune system and cell function and help break down the nutrients in food into usable energy. Because it's rare to get enough from diet alone, a daily regimen of natural health products can help maintain the optimal levels of vitamins and minerals the body needs. Vitamins act as energy nutrients and have key roles as metabolizers and antioxidants. Herbal Magic offers a wide range of scientifically formulated vitamin and mineral products developed exclusively by licensed health care professionals. Each product is formulated with premium ingredients for guaranteed potency.
"While following a weight-loss program, it's essential to stay healthy so you have the strength and energy to prepare and eat healthy meals and exercise regularly," said Regan Tessis, ND Vice President of Scientific Affairs and Consumer Health for Herbal Magic Weight Loss Centres. "By enhancing the immune system, vitamin D has been associated with less frequent colds and flu. Recent studies have also shown that vitamin D can help your body respond better to insulin, thereby helping to control diabetes and regulate blood sugar."
As the clocks move forward in anticipation of spring, now is the perfect time to begin a weight-loss program focused on common-sense weight loss with common-sense products. Get started now and lose up to 20 pounds by Victoria Day weekend.
About Herbal Magic Weight Loss & Nutrition Centres
With approximately 280 centres nationwide, Herbal Magic is the largest Canadian owned and operated weight-loss company in Canada. Every Herbal Magic Canada team member has been extensively trained and certified as an Herbal Magic Personal Health Coach. With the support of its Scientific Advisory Team – comprised of naturopathic doctors, nurses and dieticians – Herbal Magic's weight-loss experts have the experience, training and tools needed to support clients throughout their weight-loss journey. Herbal Magic's comprehensive system of real food, personal health coaching and natural health products is, quite simply, a common-sense approach to lasting weight loss. Visit http://herbalmagic.ca to learn more.