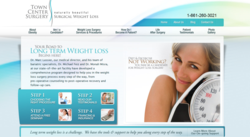 Los Angeles, CA (Vocus/PRWEB) January 19, 2011
Recently approved for coverage by major insurance companies, the vertical sleeve gastrectomy has grown in popularity because it presents patients with a weight loss procedure that does not involve intestinal rerouting or food malabsorption. Also called gastric sleeve surgery, this type of surgical weight loss technique permanently reduces the size of the stomach, and does not rely on gastric bands (a weight loss method designed to create a smaller stomach chamber). At Town Center Surgery, Dr. Marc Lussier recently started offering this innovative form of bariatric surgery in Los Angeles. He says he is proud to offer this effective weight loss option that allows patients to lose a significant amount of weight while reducing the risk of developing serious diseases that can be caused by obesity, such as diabetes, sleep apnea, and hypertension.
According to the Center for Disease Control and Prevention, 34% of Americans age 20 and older are affected by obesity. This amounts to more than 72 million U. S. adults. Weight loss procedures such as gastric bypass and the LAP-BAND system in Los Angeles have been shown to help a majority of patients lose up to 75% of their excess body weight, coupled with a dramatic reduction in the risks of developing obesity-related diseases. In comparison to gastric bypass or gastric banding procedures, the vertical sleeve gastrectomy is not reversible; however, because the stomach continues to function normally, the gastric sleeve procedure requires fewer dietary restrictions and can often be performed when existing conditions would otherwise prevent a patient from having weight loss surgery.
The vertical sleeve gastrectomy is one of the latest advancements in bariatric surgery, and can often help people who suffer from morbid obesity keep their weight down and live healthier lifestyles. However, Dr. Lussier stresses that there is an inherent risk in all forms of bariatric surgery, which should be discussed in detail with a board-certified bariatric surgeon.
About Dr. Lussier
Marc Lussier, MD, FACS earned his medical degree from the University of Minnesota. He completed his general surgery residency at New York University Medical Center, and his plastic surgery residency at Baylor College of Medicine. Dr. Lussier is a Diplomate of the American Board of Plastic Surgery, a member of the American Society of Plastic Surgeons and the American Society for Aesthetic Plastic Surgery, and a fellow of the American College of Surgeons.
Town Center Surgery is located at 24510 Town Center Dr., Suite 180 in Valencia, CA 91355 and can be reached at (661) 260-3021. The practice can be found online at http://www.towncentersurgeryweightloss.com/ or the Weight Loss Surgery Valencia Facebook page.
# # #