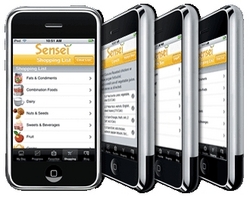 loved the shopping list available on the phone
Boca Raton, FL (Vocus) January 26, 2009
Sensei, Inc. (senseicorp.com), a pioneer in mobile and Web-based wellness solutions, today announced that tens of millions of iPhone and iPod Touch users can now download the application for its innovative weight loss program, Sensei for Weight Loss,™ from Apple's App Store. Sensei will offer a special introductory price to iPhone and iPod Touch users of $24.95 for 3 months of Sensei Anywhere, which provides access on both their mobile device and desktop.
"Unlike any of its competitors, Sensei is not about counting calories, monitoring points, attending meetings or keeping journals," said Dr. Robert Schwarzberg, a cardiologist and Sensei's chief executive officer. "What Sensei is about is expert advice from a team of psychologists, physicians, nutritionists and engineers who have developed a practical program that promotes simple changes that easily become part of one's daily routine which, over time, lead to long-term weight loss success and lifestyle changes."
Sensei unveiled its highly anticipated new platform - which features a budget-friendly version of its popular meal planner, as well as a 'favorites' tab - in December. Proving that eating healthful foods on a budget is not an oxymoron, Sensei developers added these options to provide the planning and advice necessary to eat well and save money. The new budget-friendly version automatically creates weekly menus customized to suit individual preferences and optimized to reduce food bills. The 'favorites' tab enables users to flag their favorite ingredients or meals, as well as weekly sale items at their local grocer, and have them incorporated into their weekly meal plans.
Compared to the overall monthly costs of competing weight loss programs, such as NutriSystem ($492)* and Weight Watchers ($686/online program),* the Sensei for Weight Loss Mediterranean diet meal plan, with the budget-friendly option, costs less than $200 per month (includes food and program costs).
"For the typical technology-savvy iPhone and iPod Touch user, Sensei is an indispensable tool, a personal intelligent agent -- specializing in diet and nutrition -- at one's fingertips," said Dr. Schwarzberg. "Sensei for Weight Loss leverages these mobile device features, providing highly automated, personalized weight-loss guidance and encouragement with the same sought-after, time-sensitive information these customers demand in their hectic lives. Sensei adapts quickly to spur-of-the-moment changes enabling users to stick to their program whether they eat fast food or dine at restaurants," he added.
By transforming a mobile device into a "virtual weight loss coach," Sensei for Weight Loss automatically delivers personalized meal plans, weekly shopping lists, fitness information and motivational messages to a user's mobile phone display or personal Web page - similar to having your own nutritionist and health coach providing the right advice at the right time to make healthier choices, notes Dr. Schwarzberg.
Sensei for Weight Loss was featured in the New York Times on January 8, 2009. In the article, one woman who recently tried the program called Sensei "very thorough and easy to understand;" three trial users "loved the shopping list available on the phone," and described the recipes as "easy to make."
The Sensei Approach
Originally launched in November, 2007, Sensei for Weight Loss is among the first 'intelligent application' available based on the science of behavioral informatics and Social Cognitive Theory - the use of technology to promote behavior change. The program draws on both Web and mobile technologies to personalize interaction with the user, maximize convenience and ultimately, to increase the user's prospects for weight-management success. The experience begins online, where users enter their desired weight, food preferences, eating habits, meal times, exercise routines and other personal information. Sensei's expert system then works with the user to generate a realistic, customized nutrition and fitness plan.
Sensei for Weight Loss, available on most BlackBerries, as well as most AT&T and Sprint mobile phones, leverages mobility by providing constant communication and support. It accommodates the spur-of-the-moment menu changes that challenge most dieters. For example, if a user plans a home-made lunch but then decides to eat out, Sensei for Weight Loss can recommend an alternative meal that fits within the user's nutrition plan and deliver the recommendation instantly, via the user's mobile phone.
To enroll in Sensei For Weight Loss™ or for additional information about the Sensei iPhone program, visit sensei.com/iphone. iPhone and iPod Touch users can download the Sensei for Weight Loss application at itunes.com/appstore/. Once consumers download the free application, they can enroll in Sensei for Weight Loss via the Web.

Figures from the National Business Research Institute (NBRI), 2008
About Sensei:
Headquartered in Boca Raton, FL, Sensei Inc. is a developer of innovative mobile and Web-based solutions that motivate and empower consumers to take charge of their well-being. Sensei was formed in 2005 by Humana Innovation Enterprises, a subsidiary of Humana, Inc. (NYSE: HUM). For further information about Sensei, call 561.208.4480 ext. 208, e-mail sales(at)sensei(dot)com or visit sensei.com.
###