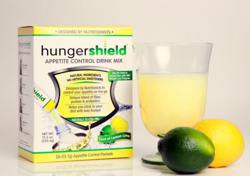 HungerShield addresses a dieter's biggest pitfall -- appetite control -- in a completely natural way.
New York, New York (PRWEB) February 21, 2013
Four of New York's leading dietitians announced today, the national launch of a new and completely natural, appetite control product called HungerShield. HungerShield, which is comprised of a unique blend of fiber, protein, and probiotics, is a simple and convenient appetite control solution that works well with any weight loss or healthy lifestyle plan. It is designed to be mixed with 12-16 ounces of water for a refreshing, lemon-lime flavored drink that can be consumed on-the-go and at any time of the day.
"With close to 70 percent of the U.S. population overweight or obese, and 95 percent of dieters gaining weight back within 1 to 5 years, HungerShield addresses a dieter's biggest pitfall -- appetite control -- in a completely natural way," said Elizabeth DeRobertis , co-founder of HungerShield and Director of the Nutrition Center at the Scarsdale Medical Group in Scarsdale, NY.
Whether the goal is to lose 100 or even five pounds, or just to maintain a healthy body, HungerShield is designed for use right before meals or in place of snacks to curb hunger. With only 40 calories, it delivers 5g of high quality protein and 4g of fiber to keep you feeling full and eating less at your next meal. HungerShield contains a variety of other natural ingredients from whey protein to flaxseed powder, plus probiotics that promote digestive health. It is gluten-free and there are no artificial colors, flavors or sweeteners.
"After seeing many patients experience difficulty adhering to prescribed weight loss regimens, our team of highly experienced nutritionists decided to create a natural product that will curb appetite and reduce caloric intake, thereby increasing weight loss success and maintenance, said DeRobertis. "We worked for two years with a team of food scientists, to create a product that is a natural, portable, effective and delicious way to help curb appetite." Results among patients under the care of DeRobertis and her associates have been very promising.
About HungerShield
HungerShield is an innovative appetite control drink mix created by four registered dietitians, Elizabeth DeRobertis MS, RD, CDN, CDE, Heather Zeitz RD, CDN, Elizabeth Pecoraro MS, RD, CDN and Dafna Chazin MS, RD, CDN. HungerShield is the only product on the market designed specifically to curb appetite through a unique blend of high quality and natural ingredients, including protein, fiber and probiotics. It is also the only product in this category that was created by healthcare professionals and can work with any diet plan on the market. For more information about the product, a list of locations where HungerShield is sold, or to purchase the product online, please visit http://www.hungershield.com. You can follow HungerShield on Twitter @HungerShield and on Facebook.