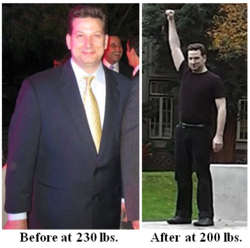 Quit thinking that having permanent weight loss results isn't possible.
Los Angeles, CA (PRWEB) March 21, 2013
Brian Daniels has penned a new weight loss e-book about his quest to lose weight safely, permanently, and without diet pills or weight loss gimmicks. Not only did Daniels lose 30 pounds permanently, he did it without stepping into a gym and ate the foods he wanted.
"When I was finally sick and tired of being sick and tired, I decided to solve my weight problem for good," says Daniels. "After reading that there are over 30,000 registered diet programs, I quickly came to the realization that diet gimmicks only offer short-term results because people usually gain the weight back. So I decided to lose the weight once and for all – the sustainable way."
Daniels' book outlines the reasons most people fail in a traditional diet program, which is mainly attributed to the fact that most programs aren't realistic or sustainable. Buying prepackaged diet food, for example, isn't a long-term solution because not only is carrying around diet food with you inconvenient, it isn't something you can do for the rest of your life. As soon as you get tired of the food or quit the program altogether, many people will go back to their old habit of overeating – which usually means even more weight gained back. Daniels derived a way to be able to eat the foods he wanted, when he wanted, but made small changes to the way he ate and that made all the difference in the world.
The average person simply can't afford the hefty price tag of $50 to $100 an hour for a personal trainer, so using them as a weight loss solution isn't practical. While it's true that some trainers are motivational, ultimately it isn't a sustainable solution for the same reason the prepackaged diet food isn't. Additionally, with the break-neck schedules people have in today's age, one must have a solution to solving a weight loss problem that is realistic – and sweaty, over-crowed gyms aren't the first choice for most. Daniels was able to lose 30 pounds without stepping into a gym or hiring a personal trainer.
"The best part about my success in losing weight was the fact that I never walked around hungry or anxious," says Daniels. "The most important lesson I learned is that the smallest changes in my life made the biggest difference. I actually learned how to modify what I was already eating and in some cases actually got to eat more food [by volume] and take in less calories. In short, that's why my method is a long-term program that's realistic, safe, and sustainable."
Daniels is proud of the fact that people come up to him and ask about ways to lose weight, and he is actually coaching many friends about his methodologies – all of whom have had success using his strategy. The bottom line is that this is not one of those quick ways to lose weight. This program takes time, but the reward for Daniels was that the results were permanent, safe, sustainable and realistic.
For more information on Daniels' weight loss strategy, go to http://www.iLost30.com.