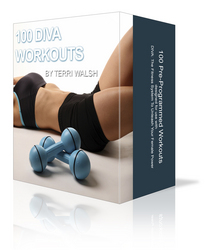 New York (PRWEB) October 24, 2008
Celebrity trainer Terri Walsh, whose private gym in Soho caters to celebrities and high profile clients, has found a way to provide her highly effective and sought-after training philosophy in an affordable, portable, and instantly downloadable ebook, 100 Weight Loss Workouts.
With 25 years of experience of training New York's A-listers at rates of up to $300/hr, Walsh has built her career on workouts that deliver results. With the creation of 100 Weight Loss Workouts she's packaged the same workouts she originally created for celebrities in an affordable format that is accessible to people of all fitness levels.
The 548-page ebook includes workout routines that can be adapted for any fitness level, and printed from any home computer for gym or in-home use. All exercises are explained and illustrated in full color to ensure proper form and maximum results. The program also includes access to free community support, through Walsh's FaceBook group, created by the trainer to ensure that members have access to others working on the program, as well as a means to reach her directly with any questions.
Her FaceBook application, the DIVA Fitness Factory, is also available free of charge, and provides tools to keep the program fun and motivational. Included are standard fitness tools like body fat calculators, but also motivational tools that let clients "throw sneakers" at each other as a reminder to stay on track, or send each other healthy virtual snacks.
Making the system adaptable, affordable, and effective was key for Walsh. Says Walsh: "I really don't like the idea that fitness is an elitist pursuit. Anyone can be in great shape, and it doesn't require spending hours every day at the gym, or thousands of dollars on expensive equipment. I compiled these workouts so that everyone could have access to sound exercise programs that deliver results at a reasonable price and in a convenient format. I'm thrilled to be able to share it."
Terri Walsh's online fitness program 100 Weight Loss Workouts is $40 and can be purchased at http://www.100workouts.com/
Contact: Elizabeth Swiers at e_swiers @ twtnyc.com
Visit Terri Walsh's site at http://www.celebrity-fitness-ebook.com
###