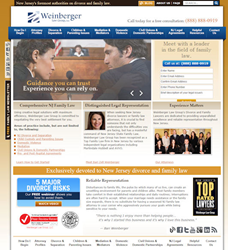 When it became clear that the law firms' offices and local staff would be in the path of the Superstorm, the external team members became important outside monitors for the new website and client contacts.
Parsippany, New Jersey (PRWEB) November 21, 2012
What happens when a New Jersey-based family law firm unknowingly launches a long-anticipated website overhaul just days before a hurricane leaves most clients -- and new site visitors -- completely in the dark? When Superstorm Sandy crashed ashore on October 29, Weinberger Law Group, with offices located in Parsippany and Freehold, New Jersey, quickly shifted its focus from spreading the word about the new site to spreading word about how to help out friends and neighbors in need.
For any business that must make a fast pivot due to circumstances beyond its control, especially when it comes to putting the needs of your community first, here are some lessons Weinberger Law Group learned about how to "keep calm and carry on" in the face of Super Storm Sandy.
Pull Together Your Team:
In Weinberger Law Group's case, the company had already established a cohesive connection with its IT staff, Internet marketing personnel, and media marketers located outside of New Jersey. When it became clear that the law firms' offices (and web servers) and local office staff would be in the path of the Superstorm, these external team members became important outside monitors for the new website and client contacts.
Secure Your Servers:
The firm's new website is designed to be an important source of information for family law and divorce clients all around the state of New Jersey, and a key way to maintain communication. This meant that making it through the storm without the new site crashing became a major priority. In preparation for Sandy, Weinberger's IT staff made sure generators were purchased to power servers during the storm and its aftermath; as a result, server interruptions were avoided. They were able to post important homepage updates for clients and staff about office closings due to power outages.
SEO Matters:
When crafting messages for site updates and on social media channels, Weinberger's SEO expert was able to continuously monitor breaking news stories, Twitter, and Facebook for relevant phrasing and key words to help the law firm extend the reach of storm-related communication. Working with their media marketer, and staying in touch with Weinberger staff members through cell phone text messages, important information about court closings, power outages, and community services (shelter locations, school closings, and gas and store openings) were quickly communicated on social channels.
Client Communication:
As a result of these efforts, traffic spiked in the online social circles while past, present, and possible future clients were able to reach the law firm. As questions streamed in, obtaining and relaying information quickly and efficiently kept divorce clients informed and calm during the chaos of the storm and their personal lives.
Reprioritize:
Even with damaging winds, power outages, and a radically different message to spread, the law firm's new site launch went off without a hitch. The power is now back in offices, courts have reopened in New Jersey, and life, for most, is finally getting back to normal.
For Weinberger Law Group's new site, the goals and priorities remain to present educational information about divorce and family law in New Jersey in the most helpful way possible for current and potential clients. Understanding how important the Internet becomes in a time of crisis also helped Weinberger to set priorities for future online content. With family law problems on the rise, Weinberger is more geared up than ever to continue work on updating the website with helpful guides, how-to documents, and answers to frequently asked questions.
Initiatives such as the regularly updated legal blog are already in place. A family law newsletter will be coming out shortly in the form of emails which will include what's new in legal news and divorce in New Jersey, so consider signing up to keep up to date.
And when disaster strikes? The lessons learned by Weinberger Law Group are definitely worth sharing.