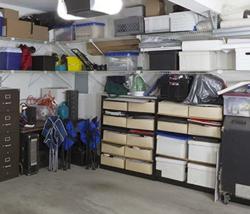 Today's home buyers want more from their garage. They want organized storage solutions with garage set-ups that allowf space for a workshop, an extra room, or even a place to store hobbie items." ~ Jenna Thuening
Minneapolis, MN (PRWEB) March 21, 2013
The recent study provided by the National Association of Home Builders (NAHB) on What Home Buyers Really Want, is helpful in providing the most current and accurate information on real estate buyer preferences. The study made it clear that homeowners want a well-organized home. In the midst of today's busy lifestyle, that is no surprise. A well-organized garage ranks high in home buyer's preferences and is increasingly functioning as an extension of the home.
"New home sales in the Twin Cities are catering to home buyers that are increasingly passing by homes that do not have a garage. Adding on to your garage or remodeling your garage to sell is one option. However, there is much you can do at little cost," says Jenna Thuening, owner of Home Destination.

Toss And Eliminate Items No Longer Needed - Simplifying is the beginning to a well-organized garage. Take time to make decisions to keep, sell, give or toss items left in the garage that are seldom or never used. Weed out all the "stuff" that is not needed if it is seldom taken out and actually used. Only keep items used in the last six months to a year; be intentional to eliminate everything else. Throw items away that are broken, seriously stained or damaged and are doing little more than taking up precious garage space.
An Organized Garage Starts With A Plan - Think of the garage as an extension of the home, deserving just as much attention for organization and cleanliness. Take measurements and draw a floor plan on pages of graph paper to gain an accurate perception of the layout space needed for an optimally organized garage. This will help to visualize items that will fit and best placement strategies.
Categorize Garage Items That Need Organizing - Now that useful items have been selected, sort them into a categorized list. For example; garbage bags, cleaning supplies, and auto care items may be used the most often. After determined priority items accordingly, these belongings might be best kept nearest the garage entry door. Next, map out space for seasonal equipment: lawn mowers, weed-trimmers, snowblowers, etc. Avoid designating larger items, such as lawn mowers, in a corner where they'll consume unnecessary space, when they may park easily under a shelving unit. Items such as ladders, shovels, rakes, and other garden tools are best hung on a wall rack and moved out of floor space where someone's foot could catch and trip on them.
Invest In Storage Containers - Today's hot trend for a highly organized home has prompted a vast array of storage container options available for purchase. Lidded bins, that easily stack and have built-in labeling, help homeowners move items off the floor and priceless counter space, keeping them clean at the same time. Transparent stackable bins conserve space and allow a quick view of the inside contents.
Add Safety Features While Organizing The Garage - Prevent unnecessary disasters due to unsafe storage of hazardous materials like fertilizers, pesticides, paint, gasoline for the lawn mower, mole killer, etc. Whether or not the household has young children, one never knows when a neighbor's child may slip in to amuse themselves while out and about in the yard. Many gardening tools have blunt or forked ends, and shop tools may include blades. They should be hung up out of reach, blade side protected against the wall. Better yet; keep chain saws, stump hatchets, and other sharp tools stored in locked boxes.
Take Advantage Of Wall And Ceiling Storage Spaces - Move seasonal space gobblers - such as snow tires, kayaks, and bikes off the floor. These items should be relegated to walls or hung from the ceiling. A hoist pulley system is easily found at DIY home center, operating like pull cords on window blinds, they have clips or straps to hold large items which can be installed directly into ceiling joists.
Items Home Destinations Suggests Using To Gain And Organized Garage:
Freestanding Shelving Units
1) Garage Cabinet Systems
2) A Workbench With Storage Drawers
3) Ceiling Mounted Storage
4) Freestanding Storage Cabinets
5) Wall Mounted Storage
"Homeowners can find affordable, great-looking solutions that keep garden equipment, outdoor folding tables / chairs, yard games, sports items and more safely stored in the garage. Simplifying your garage items and getting well-organized will help a home sell faster and moving be less burdensome," advises Jenna.
Remodelers Magazine 2013Cost Vs Vale Report put a Minneapolis garage addition at a cost of $48,806, with a recoup of $31,091 or 63.7%.
There are key things to do before selling your home to gain the best experience possible. Minneapolis home sellers can reach Home Destination at 812-396-7832 for guidance.