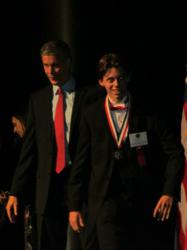 I think the number one thing I took away from the whole experience was that when you as an individual create something that spurs action and makes people want to make a change for the better, that's when you know you've fulfilled your role as an artist.
West Chester, PA (PRWEB) June 30, 2012
Dan Frantz unknowingly plunged into the world of digital filmmaking at age eleven, armed with the neighbor's video camera and battalion of GI Joes. Wind the clock forward six years and what began as a mere childhood hobby has blossomed into a passion for filmmaking. After winning Evike.com's 2009 web-commercial contest, Dan began to pursue filmmaking professionally. Since then Dan has created over 100 films ranging from guerilla-style action flicks to a 2011 feature-length documentary, shot in Kenya. His films have been featured in several festivals including the West Chester and Houston film fests. He is the Youth Award winner of the Johnstown Film Festival. Additionally, he won a 2011 Telly Award, along with a PBS narrative filmmaker award.
But last weekend was the culmination of it all. Dan was named one of just twenty 2012 U.S. Presidential Scholars in the Arts and was honored in Washington, DC during a series of events held at the Smithsonian American Art Museum and The John F. Kennedy Center for the Performing Arts. Dan achieved this high honor by participating in and then reaching the finals in the National YoungArts Program.
His work is now part of an exhibition of works at the Smithsonian American Art Museum through July 4, 2012. That work includes excerpts from two of his films, "Delta Station" and "Well of Dreams: The Journey of Anne Okelo" a feature length documentary.
The last part of the competition for the U.S. Presidential Scholar Award required the writing of an essay. Dan's essay talked about the way his experience shooting a film in Kenya was a pivotal turning point in his life. "I realized the true power behind the medium of film. Since then I have been aware that filmmaking is not merely a form of entertainment. Filmmaking as a form of communication has a million different functions, but perhaps most importantly it can be a catalyst for change. The fact that something I created was strong enough to spur people to donate their time and money into creating a better world for someone thousands of miles away still baffles me."