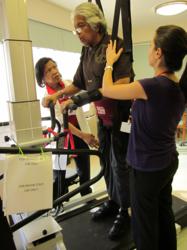 New Rochelle, New York (PRWEB) March 05, 2012
When Renwick Williams was admitted post-stroke to United Hebrew of New Rochelle's nursing home pavilion in the dedicated subacute rehabilitation floor, he was exceedingly weak and could not walk without staff assistance. The exceptional Burke Rehab at United Hebrew staff were only able to support his full weight and help him walk a short distance. But things have dramatically changed now with the addition of the cutting edge LiteGait device to their rehabilitative suite. Partial weight-bearing patients can now be harnessed and supported in safety, allowing the devise to assist them to walk while the therapist provides gait training. It is a miracle to see Mr. Williams walk 400 feet, a fourfold improvement. The LiteGait frees the therapist's hands so they can better assist the patient with postural control, weight shifting, foot placement, knee extension, and balance.
The nursing and rehabilitation pavilion, which opened in 2009, offers a dedicated Short Term Rehabilitation floor with private rooms. The state-of-the-art pavilion offers spacious, bright private rooms, sweeping views of the Sound, and a courtyard garden. On each floor cozy dining rooms and inviting sitting rooms contribute to the neighborhood atmosphere. Exemplary care is provided by United Hebrew's multi-disciplinary staff and the physical, occupational and speech therapists on the burke rehab team. The therapists are so optimistic about their success rates that each patient's discharge plan begins on admission. The program is focused on getting the patient home in the shortest amount of time possible at the greatest level of independence possible.
United Hebrew patients best suited for using the LiteGait are those with neurological and gait deficits including stroke, Parkinson's Disease, spinal cord injury,Multiple Sclerosis as well as people after orthopedic surgery or amputation.
"The LiteGait therapy device has been a very beneficial tool for our patients, " said Nora O'Brien, DPT, Director of the Burke Rehabilitation at United Hebrew team. "Our success rates have increased in helping patients reach their goals earlier and with greater independence."
For more information about Burke Rehabilitation at United Hebrew contact Eileen Clayton, Director of Marketing at United Hebrew of New Rochelle, 391 Pelham Road, New Rochelle, NY 10805, 914.632.2804 x1225 or uhgc.org.
###