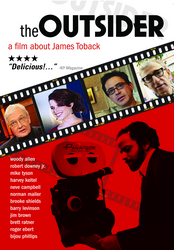 Westlake Entertainment is proud to offer such a fantastic collaboration of the industry's best and brightest performers.
Chatsworth, Calif. (PRWEB) February 13, 2008
Westlake Entertainment, Inc. documentary line, Sovereign Films, announces today the release of THE OUTSIDER, a feature-length documentary from first-time writer/director Nicholas Jarecki. THE OUTSIDER is a film about the power of cinema to create, to move, and to endure.
It follows one of America's most obsessive and intriguing filmmakers, James Toback, writer/director of 11 movies including: Two Girls and a Guy, Black and White, The Gambler, Fingers, Bugsy, and When Will I Be Loved. THE OUTSIDER, will be available nationwide on February 19, 2008 for a suggested retail price of $24.98.
THE OUTSIDER provides a behind the scenes look at the unique challenges of making films outside of the mainstream Hollywood system," said Larry Cohen, Principal of Westlake Entertainment.
"Westlake Entertainment is proud to offer such a fantastic collaboration of the industry's best and brightest performers."
Filmed over an 8-month period, THE OUTSIDER follows Toback through all phases of the making of his new film (shooting, editing, scoring, and release). The movie develops through frank conversations with him about his obsessions (gambling, drinking, drugs, and sexual exploration) and how they manifest themselves in his films by interweaving clips from all of his movies. The film also contains candid, revealing conversations about film and life with Toback's collaborators including: Woody Allen, Robert Downey, Jr., Mike Tyson, Harvey Keitel, Neve Campbell, Norman Mailer, Brooke Shields, Barry Levinson, Jim Brown, Robert Towne, Brett Ratner, Roger Ebert, Bridget Hall, Damon Dash, Woody Harrelson, Bijou Phillips, Jeff Berg, Dominic Chianese, and Power from Wu-Tang Clan.
Toback is not a household name, but he tends to be a favorite among people who have seen his films. Outrageous and generous, innovative yet accessible, hard-edged and yet oddly optimistic, Toback's movies occupy their own cinematic world.
In THE OUTSIDER, director Nicholas Jarecki explores the landscape of that world, and the film is an ideal introduction to Toback, THE OUTSIDER, is also shrewdly made, illuminating its subject in a variety of settings and, at times, subtly assuming the style of Toback's films.
Westlake Entertainment is a fully integrated, independent entertainment distribution company owned by industry veterans Larry Cohen and Luke Stefanko. Primarily engaged in licensing and distributing feature films and television programs, Westlake specializes in bringing new release content to retail. Westlake serves as a distributor for Cineville Films, Sovereign Films and Lonely Seal Releasing. For more information regarding Westlake Entertainment's product, visit http://www.westlakeent.com.
THE OUTSIDER
Street Date: February 19, 2008
Prebook: January 15, 2008
Item Number: WLV3668
UPC: 798622366825
SRP: $24.98
Rating: Not rated
Running Time: 83 Minutes
Genre: Documentary
Format: DVD
For more information, contact:
J.D. Bowles
818-742-5880
Deb Sleezer
818-716-5822 x226
###