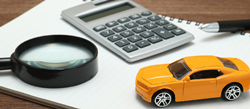 "Drivers can save money on their car insurance premiums if they know how to carefully customize the insurance deductibles", said Russell Rabichev, Marketing Director of Internet Marketing Company.
LOS ANGELES (PRWEB) April 14, 2019
Carinsurancehints.com has launched a new blog post that explains what advantages are gained by customizing the car insurance deductibles.
A deductible on a car insurance policy is the agreed amount of money a policyholder must pay before the insurer will cover the claim. Usually, deductibles apply to comprehensive and collision coverage, but they can be found on other special policies.
For more info and free quotes, visit https://www.carinsurancehints.com/auto-insurance-deductibles-work/
The deductible is selected when the policy is purchased. Deductible levels can be modified at renewal or midterm periods of the policy if no losses have occurred during those periods. Some insurance companies allow deductibles to be adjusted at any time, so policyholders should check if their insurance company is one of those.
Different deductible amounts influence insurance costs in different ways. They influence how much a policyholder pays on his insurance rates or how much money out of their pocket is paid when a claim is made. Regularly, the range of deductibles is between $250 and $1,000. If a policyholder selects a high deductible, then he will pay less on his premium rates. However, if a claim is to be made, the policyholder will have to pay more money out of his pocket before the insurance kicks in.
For example, let's say a policyholder's deductible is $500. If the policyholder gets involved in a car accident where the collision coverage might apply, and the car he was driving suffered damage that requires $ 2,500 in repairs, he will be responsible for paying $500 of those repair costs. The remaining $2,000 would be paid by the insurance company.
For additional info, money-saving tips and free car insurance quotes, visit https://www.carinsurancehints.com/
Carinsurancehints.com is an online provider of life, home, health, and auto insurance quotes. This website is unique because it does not simply stick to one kind of insurance provider, but brings the clients the best deals from many different online insurance carriers. In this way, clients have access to offers from multiple carriers all in one place: this website. On this site, customers have access to quotes for insurance plans from various agencies, such as local or nationwide agencies, brand names insurance companies, etc.