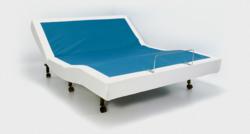 Tempe, AZ (PRWEB) March 19, 2013
While consumers have long realized the health benefits associated with sleeping on an adjustable bed, past selections have been very limited and did not fit traditional bedrooms. Recently the market has exploded and shoppers have many choices, but few comparative resources. Mattress research blog WhatstheBestBed.org recently released an article detailing the pros and pitfalls of top brands.
The post, "What's the Best Adjustable Bed Brand?," begins by taking an in-depth look at three top brands using data collected from a recent BestMattress-Reviews.org adjustable bed comparison. This article indicated indicated the top brands as Amerisleep, Sleep Comfort and Tempurpedic, so the newer article chose to focus exclusively on these lines.
In broadening the comparison, the blog aims at sticking to more general factors relevant to all shoppers, rather than more subjective traits like feature add-ons and mattress types. Each brand receives a short write-up detailing their retail method and adjustable be models currently sold. Then, the blog looks at specifics, comparing consumer reviews, durability, warranty, and price.
For reviews, they used the information provided on the retailers website when applicable. At press time, Amerisleep's bases showed average reviews of 4.7 to 5 out of 5 in over 30 reviews, Sleep Comfort offered only testimonials, and Tempurpedic's current Ergo Basic had 3 out of five in 9 reviews.
Durability looked at certifications and reports of issues in reviews. All of the bases being considered met standard certifications like UL listing. However, two of the brands had higher reports of issues with mechanics or warranty than others.
All of brands met industry standards for warranty. However, the 20-year warranty from Amerisleep stood out with a full 1-year warranty, 2-year motor warranty and 5 years on parts.
Pricing, the final factor compared, highlighted the greatest differences. Amerisleep's entry level price was the lowest, beginning at $949 before discounts. Tempurpedic started at $1200, while Sleep Comfort does not provide pricing on their website, only over the phone.
Concluding remarks name Amerisleep the leading adjustable bed brand, due to greater value and transparency. The article concludes with a wrap up of the features included in the comparisons, showing readers why each proves important and offering tips for consumers performing their own research.
WhatsTheBestBed.org is a blog dedicated to helping shoppers figure out which is the best mattress for their needs. Through easy-to-read, informative posts readers can access information on top brands and a variety of mattress types provided by unbiased, knowledgeable sources. From professional assessments and consumer reviews to coverage of the latest mattress industry headlines, the website provides a wealth of resources to consumers researching beds.