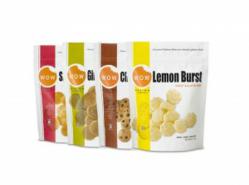 What really sets WOW cookies apart is that they are a delicious, gourmet cookie first and foremost.
Kent, WA (PRWEB) January 22, 2012
The name WOW says it all. WOW Baking Company, the sweetheart of the National Association for the Specialty Food Trade (NASFT) Fancy Food Show in San Francisco this week, unveiled Cookies in a Bag, their new grocery store line of mini-sized WOW gourmet wheat- and gluten-free cookies that stay fresh, moist, chewy and delicious for 9 months. The secret's in the zip-lock bag.
Cookies in a Bag from WOW sport a fresh look on grocery stores shelves. Crafted with quality all-natural ingredients in small batches at WOW's dedicated gluten-free certified kitchen, the mini sized cookies are packed with rich delicious flavor—just like the gourmet cookies in WOW's freshly made bakery line.
Foodies and cookie aficionados who converged on San Francisco for the Fancy Food Show expressed their love of WOW's Ginger Molasses, Peanut Butter, Snickerdoodle, Lemon Burst, Oregon Oatmeal and Chocolate Chip cookies by circling back to WOW's table again and again during the three-day expo.
Joy Page, founder of WOW Baking Company, reflects back on when WOW Baking Company first attended the Fancy Food Show, when the With-Out Wheat (WOW) Baking Company was one of just a handful of wheat and gluten-free products at the expo.
"The gluten-free market has really exploded since we started coming to the Fancy Food Show—and certainly since we opened our kitchen doors—but what really sets WOW cookies apart is that they are a delicious, gourmet cookie first and foremost," said Page.
"The fact that they are all-natural and wheat- and gluten-free is appealing to many people. But most people think of them as just really delicious cookies."
Sales of Gluten-free products are indeed on the rise. According to Euromonitor International, gluten-free product sales have doubled since 2005 to $1.31 billion in the United States, and are expected to hit $1.68 billion by 2015 in the United States alone.
The gluten-free market is being fueled not only by gluten-intolerance, or Celiac disease, but by a growing public perception that avoiding gluten is part of a healthy lifestyle—with many types of claims, including that eliminating gluten can help reduce ADHD symptoms and migraine headaches. Celebrities like Oprah Winfrey and Gwyneth Paltrow's have also come out with claims that avoiding gluten is an important part of a detox diet.
"The new packaging allows us to extend the WOW line outside of bakeries and specialty food shops and onto mainstream grocery shelves," said Page. "Grocers asked us to make our cookies available with a longer shelf life to meet the growing demand for gluten-free products in their stores."
In addition to watching out for human health, WOW Baking Company is also an environmentally-conscious company. The gourmet cookie maker recycles or composts 92% of its waste, and is always looking for new ways to be greener.
For more information about WOW Baking Company, please call (425) 251-0541 or find a distributor on their website: http://www.wowbaking.com/wholesale/.
About WOW Baking Company
WOW Baking Company was founded and thrives in the Pacific Northwest, an inspiring environment for all-natural products and an area that whole-heartedly supports "green" business practices. In 2007, WOW outgrew their first production kitchen and moved into their new offices and production facility built to meet the growing demand for WOW Baking Company products.
Susan Howe, WOW's director of product development, is passionate about creating the best tasting baked goods available. With a true love for baking, Susan spends countless hours mixing and baking until she discovers the ultimate blend of ingredients and preparation. After the WOW team gets a chance to devour her creations, Susan evaluates their comments and refines the recipe to perfection.
WOW Baking Company loves to hear what people think about their products, so please post a message on their wall on their Facebook wall: http://www.facebook.com/pages/WOW-Baking-Company/176833292346153.
###