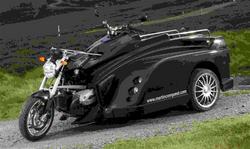 We are excited to participate and sponsor the Veterans Wheelchair Games
Denver, CO (Vocus) June 25, 2010
The Mobility Conquest, a sleek motorcycle-based trike designed for the wheelchair-bound, will make its debut June 4-9 at the National Veteran's Wheelchair Games in Denver, the largest wheelchair sports competition in the world.
Entry into the high performance trike is easy as the driver remains in his/her own wheelchair. The trike is fully road and track tested and complies with the U.S. safety standards. A BMW engine allows the trike to accelerate to 60 MPH in 7.6 seconds. The bike has six forward gears with reverse and keyless entry standard on all trikes. Each trike can comfortably accommodate a passenger and their wheelchair accessible needs. The trike has a uniquely designed front and rear suspension to help avoid any changes to driving or handling due to the increased weight of the passenger.
Adaptive AutoMobility, owned by Kevin Duran, is an authorized dealer of the Conquest with showrooms in Denver and Colorado Springs and will be in attendance at the Games.
"We are excited to participate and sponsor the Veterans Wheelchair Games," Mark Allen Roberts of Mobility Conquest said. "We look forward to helping our service men and women reconnect with their passion for riding motorcycles. Our focus is to help them get on the road again in our Conquest Motorcycle, designed for people with physical challenges from the waist down to drive a motorcycle while in their wheelchair."
Mobility conquest is dedicated to providing handicapped persons who have a love of the road and a desire to reconnect with the sport following a disability.
The Mobility Conquest motorcycle was chosen to be a part of the opening ceremonies and will be driven by one of 18 veteran bikers. That biker will be CJ Snider from Denver. Snider will be riding a bike in the opening parade and also helping out with the air rifles booth. Snider, who rode motorcycles all through the war until she became injured, wasn't sure if she would ever ride a bike again. Five years ago, Snider become the owner of a custom designed trike. However, it's not easy to transfer a person onto the trike and someone has to follow her with her chair so she can dismount at her destination. The Mobility Conquest lets the rider enter the trike while seated in their chair and they have complete independence. A few weeks ago Snider was able to ride the bike for the first time.
"This was a very comfortable ride," Snider said. "I would definitely not mind owning one. The owner of the bike let me ride in circles around the parking lot. I told him I was getting dizzy, so we took it out for a ride."
Seventeen different sports are available to veterans who use wheelchairs due to neurological disease, amputations and spinal cord injuries. The National Veteran Wheelchair Games is the largest annual wheelchair sports competition in the world. Some of the Games include basketball, rugby, softball, hand cycling, trapshooting, swimming, table tennis and many others. There will also be a special "Kids Day" program where children with disabilities can meet athletes.
Five hundred people are expected to attend the annual National Veterans Wheelchair Games which are sponsored by the Department of Veterans Affairs (VA), with additional support from corporate and community groups. Seventeen different sports are available to veterans who use wheelchairs due to neurological disease, amputations and spinal cord injuries. For more information visit http://www.wheelchairgames.va.gov.
For more information on the Conquest wheelchair accessible motorcycle, visit the official website at http://www.mobilityconquest.com/.
###