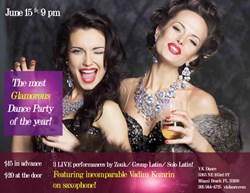 Each month VK Dance hosts a theme dance night party. This time it's all about glamour.
Miami, FL (PRWEB) June 14, 2013
With the huge variety available, choosing where to dance salsa in Miami or learn bachata can be difficult for both locals and those on vacation. VK Dance Center offers dance classes along with luxurious parties for students to practice with instructors after a lesson. Whether an amateur, professional, or casual fan of Brazilian zouk or on the lookout for some of the best salsa in Miami, there will be plenty for all to enjoy.
Brazilian zouk evolved from the sizzling lambada and is a cross between salsa and Dominican bachata, said Kendra Haynes, a Brazlian zouk instructor at VK Dance Center: "Our entire goal is to promote zouk. It's still a very small dance scene. In the U.S., it's fairly small. We're only one of about eight cities in the U.S. that offers zouk with VK Dance being the only place to dance zouk in Miami."
Each month, VK Dance hosts a theme dance night party. This time, it's all about glamour. "Put on your very best," advises VK Dance Center's founder Victor Kanevsky, "Come on in to see and be seen, as well as to dance, drink, watch great dancing and enjoy the amazing talent of one of Miami's best kept musical secrets, the incomparable Vadim Kozarin and his saxophone." Vadim will join Latin dancers Igor Derimov and Daria Cebotaru at midnight for an unforgettable live music dance performance. Advanced table reservations are very much encouraged. As always, VK Dance Center (vkdance.com) is the right place to dance with world-class instructors. Everyone will have an opportunity to learn a new step or two. Even those who have never put on dance shoes (or never owned a pair), the night promises to titillate the senses.