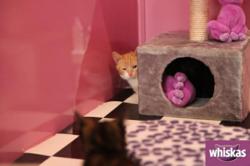 Sydney, Australia (PRWEB) November 15, 2012
On Friday 12 October, Martin Place was transformed into 'Kitten Place' with kittens taking over the iconic Sydney landmark.
In support of PetRescue, WHISKAS® built a carefully designed custom home for a number of kittens. This temporary home was fitted with kitten-sized furniture and other homely accessories and was completely visible from the outside, where passers-by were sure to be transfixed by all the fun and antics of kittens in a home environment.
The amazing structure and its adorable furry dwellers helped celebrate the launch of 'Bring Your Home To Life' a WHISKAS® initiative to encourage responsible kitten adoption and Getakitten.com.au, a website designed to match responsible owners with the right rescue kittens.
The 'Bring your Home to Life' campaign and the launch of Getakitten.com.au comes just in time for spring, which is traditionally 'kitten season'.
"This time last year around 8,000 kittens nation-wide were up for adoption through PetRescue, and signs show 2012 will be just as big. A kitten can make the perfect addition to almost any kind of household. Our campaign seeks to remind people how adorable kittens can transform a home and bring so much joy" said WHISKAS® spokesperson Anthony Dean.
Although rescue kittens couldn't be adopted during the launch event, WHISKAS® and PetRescue are making it easy for the right responsible owners to find their perfect kitten match.
Getakitten.com.au is the destination where you can find everything you need to know about bringing a kitten home. It includes a kitten compatibility test, kitten care and the 'Find a Kitten' app that lets you see kittens available for adoption in your area and find your nearest PetRescue shelter.