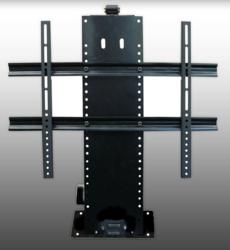 Exton PA (PRWEB) August 31, 2012
Touchstone Home Products proudly announces the release of the new Whisper Lift II TV lift system. The Whisper Lift II is the latest addition to Touchstone's product line of flat screen TV lift cabinets and TV lift mechanisms for use in custom installations. The new Touchstone TV lift mechanism culminates of over seven years of research and design by Touchstone's expert mechanical engineers.
Touchstone's new TV lift mechanism features key design changes, which improve upon the functionality of Touchstone's original Whisper Lift TV lift mechanism. Touchstone designed the Whisper Lift II with the end-user in mind, including features to simplify the installation process for any residential or commercial project.
Touchstone's TV lift systems are often installed inside cabinets or recessed areas to raise or lower flat screen televisions in homes, boats and RVs, as a unique alternative to standard wall mounts and basic TV stands. The Whisper Lift II provides customers with an eye catching, space saving solution, which allows them to raise the display with a remote control when needed and conveniently hide the flat screen TV away when not in use.
The Whisper Lift II operates by using a single piston actuator in a fully enclosed system, ensuring safe operation and virtually zero wear and tear. The steel external casing of the lift provides added protection for the lift internals and helps to keep them clean and free of dirt and debris.
The Whisper Lift II is compact and versatile measuring 32.75" (H) x 10" (W) x 7.5" (D) when lowered, and raises to a fully extended height of 65.5" in under 30 seconds. Designed to fit plasma, LCD, or LED flat screen TVs up to 60", the Whisper Lift II can accommodate televisions up to 100lbs, with a lift capacity of 120lbs.
About Touchstone:
Touchstone is a leader and pioneer in the design and manufacturing of theater lift cabinets. Founded in 2005, Touchstone offers cabinets in contemporary, traditional, and transitional styles to fit seamlessly in almost any home. Bedroom-size TV lift cabinets accommodate flat panel televisions up to 45 inches, full-size cabinets will fit flat panel TV's up to 55 inches and mid-size cabinets up to 46 inches. Touchstone TV lift cabinets maximize space, enhance in-home entertainment experiences and provide added safety and security to any room in the house.
Check out the entire product line of TV lift cabinets and TV lift mechanisms at http://www.touchstonehomeproducts.com