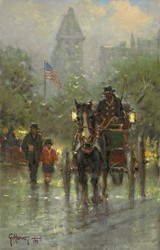 G. Harvey is one of the Nation's most recognized and collected living artists....
Fredericksburg, TX (PRWEB) September 13, 2010
G. Harvey is one of the Nation's most recognized and collected living artists and one of Texas' favorites son's. This September "G. Harvey 2010" will surely be THE major art event in Texas. It has been 24 years since G. Harvey's last major one-man show of new paintings in Texas. Over 25 new original oil paintings will be featured from September 3 - 25 in his hometown of Fredericksburg at Whistle Pik Galleries. An Artist Reception is planned for Friday, September 24th from 11 am to 2 pm and is open to the public at Whistle Pik Galleries. Show pieces will be sold at a dinner and auction on the evening of September 24. Several of the pieces from the event are also available for purchase as a limited edition print on canvas. A commerative limited edition catalog is available for purchase from the gallery.
G. Harvey was already becoming one of America's favorite artists during the early 1980's when most of his work was sold in Texas. Since that time, every one-man show in Wyoming, Arizona, and California sold out when collectors acquired his paintings and bronze sculptures. His popularity was furthered by exhibitions at the National Archives, The Treasury Building, and Smithsonian Institute in Washington D.C. during the 1990's. His impressionistic mix of America's turn-of-the-century rural western scenes and cityscapes as well as quiet glimpses of European scenes are even more popular today as collectors have gravitated to art that depicts gentler times. G. Harvey has received numerous awards for artistic merit and recognition for his contribution to the arts. Among those, he most recently received lifetime achievement awards from the Booth Western Art Museum in Cartersville, Georgia, and the Dolph Briscoe Museum in San Antonio in 2009. His works are in private, corporate, and museum collections throughout the U.S. and Europe, and offices of major industries from New York to California, the U.K., Germany, Japan, and Korea.
In addition to G. Harvey's work, over 50 nationally acclaimed artists are represented by Whistle Pik Galleries. New works in oil, watercolor and bronze are being featured in both galleries during this momentous event. Subjects of those pieces include landscapes, portraits, still life, western, European, wildlife, Indian and other traditional themes.
Whistle Pik Galleries viewing hours are Monday through Saturday from 10 am to 5:30 pm. The gallery is located at 425 E. Main Street in Fredericksburg, TX. Call 800.999.0820 or email info(at)whistlepik(dot)com.
###