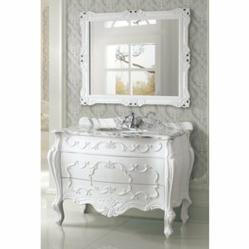 HomeThangs offers a selection of Victorian inspired white bathroom vanities, as well as tips on how they can be incorporated into existing décor.
(PRWEB) July 14, 2012
HomeThangs.com has made their goal to deliver the right product to the consumer, with that in mind, shopping and home design tips, as well as special product selections are being introduced.
Dainty white bathroom vanities, especially those with a little Victorian influence, can often take the part of dressing vanities. That way, one gets all the style of a decadent bathroom and private dressing area in one, while keeping the functionality of a full bathroom setup, even in a relatively small bathroom.
HomeThangs offers a selection of Victorian inspired white bathroom vanities, as well as tips on how they can be incorporated into existing décor.
1. Victorian style and vaguely boudoir-vanity shape immediately create the impression of a lady's space, and emulate the look and feel of a classical dressing table. Even if one has to share the space – as in a small to midsized master bath – a vanity like the Charlotte GS-6148-WH by Virtu or the Classic White WB19663 vanity by Legion Furniture has all the storage space needed for two while retaining the style that makes it seem personal.
2. White bathroom vanities with a lot of woodwork and intricate detailing, add authenticity to the antique look and feel of a piece. That said, in a more modern bathroom – to make the style a little more gender neutral, something like this Gabrielle vanity from DecoLav might be a better fit. It has all the curve to it of a classic dressing table, but without the elaborate finish work that makes for a more authentically Victorian style. The dresser style drawers, on the other hand, go a long way toward adding to the bedroom – rather than bathroom – style.
3. White color adds to the Victorian style. It's clean, it's slightly classical, and it's more than a little effeminate, even delicate. The Savina 85920-01 vanity from Porcher is fairly simple in style, with a solid white finish that makes it look a little like a classical column, Conversely, its small size makes it delicate – a combination to create a little ladylike old world charm.
4. An off white, cream, or even distressed or antique white can work for this, too. Each color gives a slightly different impression and can change depending on your lighting. While truly white bathroom vanities are crisp, clean, and finished looking, a weathered white plays up the antique aspect (for a slightly more rustic or "found" vintage style). On the other hand, off white or cream vanities, such as the Victorian Vanity HYP-0134-T-UIC-26 by Silkroad Exclusive will add a little extra warmth to the bathroom. A vanity like this is would bring out gold tones in a bathroom, but one has to be careful not to use a light bulbs that cast a very yellow light, as it can make the bathroom look dingy.
The key to recreating a Victorian dressing room lies not only in choosing the right white bathroom vanities, but also in choosing the right accessories. Fabric, especially curtains, vintage inspired porcelain bathroom accessories, and even a few antique toiletry items would to the Victorian look. Even in a smaller bathroom, choosing the right Victorian bathroom vanity and accessorizing intelligently can create the sensation of a luxurious, private space.
HomeThangs.com is not only a home improvement superstore, it also provides expert design tips and a comprehensive shopping guide, taking the ideas from professional interior designers, and offering tips to the consumers on how to pick the products to best suit their needs.